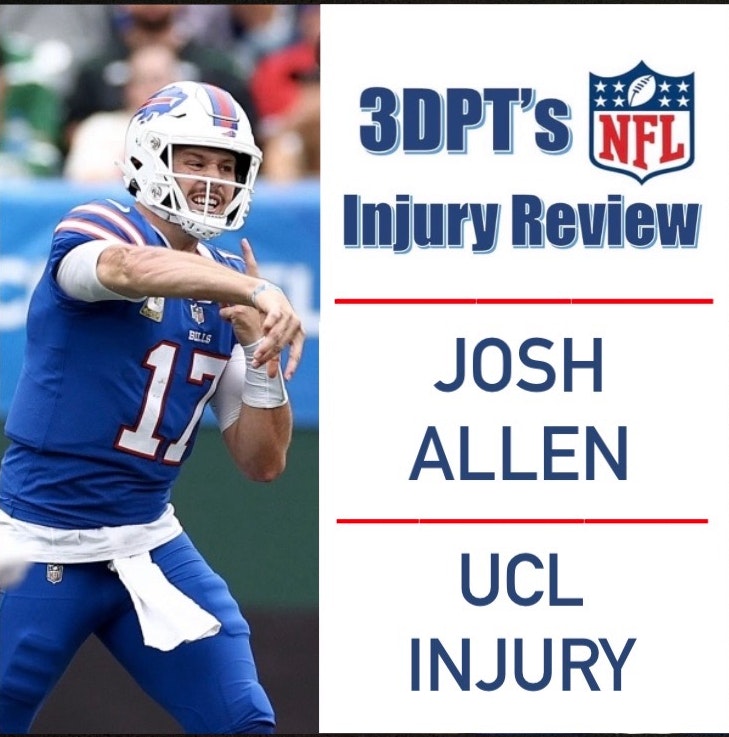 At a Glance –
Player: Josh Allen
Position: Quarterback
Team: Buffalo Bills
Injury: UCL sprain
Projected Recovery Time: 6-12 weeks (if non-op), 6-12 months (if operative)
Josh Allen has been a very popular and consistent Fantasy QB this year. Unfortunately, Allen's ability to play has been called into question after suffering an elbow injury during this past week's loss against the New York Jets. During the final drive of the game, Allen got hit as he attempted to make a pass, and he had significant pain in his elbow when attempting to throw after. Reports suggest a potential UCL injury but have not confirmed the extent of such injury.
The UCL (ulnar collateral ligament) is a major stabilizer of the elbow. It limits the elbow when it is under valgus stresses, and it stabilizes during the throwing motion. UCL injuries are very common in throwers, and injury to the UCL, in which the UCL is completely torn, typically requires surgery as that stability is essential for throwing. With a UCL repair, recovery from surgery typically takes 6-12 months, depending on a person's progress. If the UCL is not completely torn, conservative management is possible. Regardless of severity, Allen will be participating in PT. Focus of sessions will be in building up both forearm and shoulder strength
to better protect the UCL and stabilize the elbow, and efforts will eventually focus on that throwing motion and ensuring the UCL can withstand the stresses that throwing puts on it. Elbow range of motion will also be addressed, as full straightening and bending of the elbow can be lost, leading to difficulty with not only throwing but everyday tasks. Towards the end of rehab, there will be an emphasis on perturbation training to continue to promote stability and improve Allen's ability to react to unexpected movements during play. If Allen is able to avoid surgery with a mild to moderate sprain, he may play on a week to week basis. However, recovery after surgery takes 6 months minimum, meaning someone else will have to lead the
Bills to playoffs. Bills' fans have had enough heartache – hopefully Josh will be cleared to play after further imaging is performed this week.
In this video, the 3DPT demonstrates a few exercises that could be incorporated into a rehab program for UCL sprain.
Early Stage: Eccentric Biceps and Hammer curls with Kettlebell
Late Stage: Repeated weighted ball throws @90* of abduction
Return to Sport: Eccentric Weighted Ball Throws
Source: https://billswire.usatoday.com/2022/11/06/buffalo-bills-josh-allen-slight-pain-arm-injury-jets/
Categorized as: 2022 NFL Blog,3DPT's NFL Injury Review