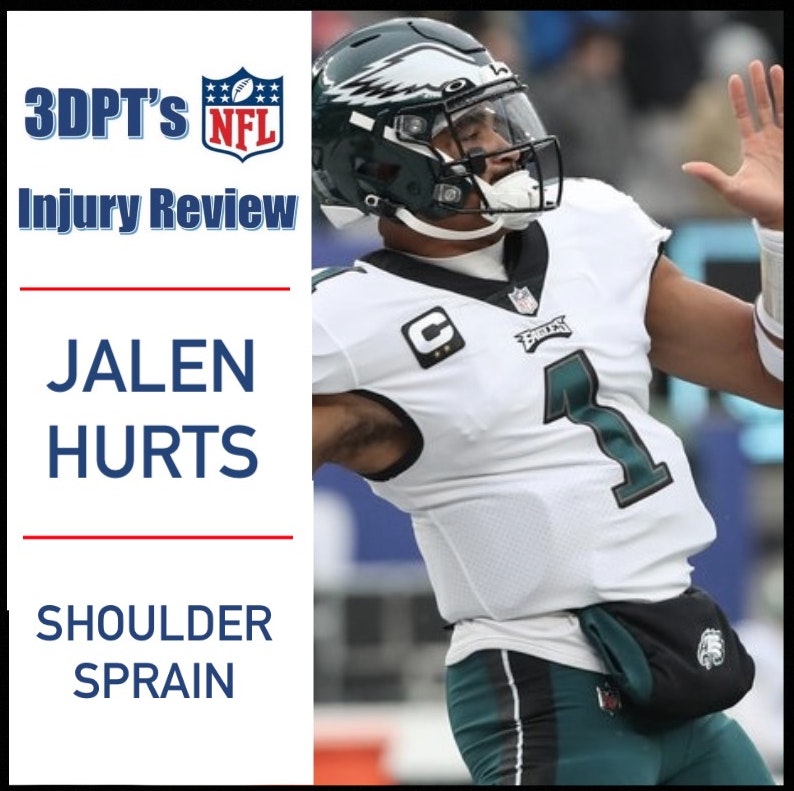 At a Glance
Player: Jalen Hurts
Position: Quarterback
Team: Philadelphia Eagles
Injury: shoulder sprain
Projected Recovery Time: 2-6 weeks.
The Eagles are currently sitting in the one seed position for the NFC. However, without their quarterback, Jalen Hurts, the Eagles have lost the past two games, meaning they need to win this weekend to maintain that position for playoffs and obtain that coveted first round bye. Hurts has missed the past two weeks after sustaining a pretty significant hit, leading to a sprain of his shoulder, during the Eagles' game against the Chicago Bears. Hurts has since missed the following games, but reports suggest that he may be ready to play in the last game of the season.
Hurts has undoubtedly been working with his PT to return to the field as quickly as possible. A shoulder sprain is pretty unspecific in terms of what tissues of the shoulder are involved, but rehab will focus on restoring Hurt's shoulder motion, which is likely limited due to pain. Building up the stability of the shoulder will also be the focus, meaning the rotator cuff will be targeted by several of the exercises, especially since Hurts' throwing shoulder is the one involved. Since he is likely to be back this week, it is likely a Grade I or II sprain, meaning mild to moderate tissue damage, so even when Hurts does return, he will likely continue working with his rehab team as the Eagles make their way through the playoffs. Hopefully he will see a lot of use of that shoulder in the next month!
In this video, the 3DPT team demonstrates a few exercises that could be incorporated into a rehab program for a shoulder sprain.
Early Stage: Sidelying External Rotation
Late Stage: Plank pull-thru twists with kettlebell
Return to Sport: Body Blade Cross body chops
Source: https://www.phillyvoice.com/eagles-news-jalen-hurts-start-week-18-injury-update-shoulder-sprain-giants-nfc-east-first-seed/
Categorized as: 3DPT's NFL Injury Review