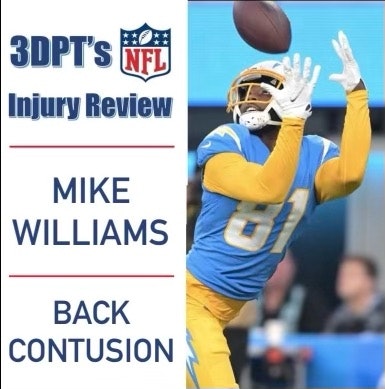 At a Glance
Player: Mike Williams
Position: Wide Receiver
Team: LA Chargers
Injury: back contusion
Projected Recovery Time: 1-6 weeks
The LA Chargers clinched the number 5 seed in the playoffs… last week. However, during this week's matchup against the Broncos, the LA Chargers saw an injury of a player who certainly makes a difference on the field. Mike Williams, a key player to the Chargers offense, suffered a back injury during the game and was carted to the locker room and did not return to play. Reports feared that Williams suffered a back fracture, which would likely sideline him during the Chargers' playoff run. Luckily, reports indicate that Williams suffered a back contusion and that imaging was clear of more severe injuries of the back. It is likely that Williams will be able to play in the Chargers' upcoming playoff match.
A back contusion is essentially a bruised back, and it is a very common injury in football as it usually results from a direct blow to the back, which can happen from falling or getting tackled. Though it is not a severe injury, it can be pretty painful, and Williams will likely be rehabbing to get back to the field sooner. Focus of treatment sessions will be on decreasing pain via manual techniques and icing, as well as restoring any lack of motion in the spine. Further emphasis will be on building core strength and stability to prevent progression of the injury. Luckily, with the help of his rehab team, Williams will be back on the field and ready to face the Jaguars with his team on Wildcard Weekend.
In this video, the 3DPT team demonstrates a few exercises that could be incorporated into a rehab program for back contusion.
Early Stage: Hamstring stretch
Late Stage: Core twists kneeling on a physioball
Return to Sport: Deadlifts
Source: https://www.boltsfromtheblue.com/2022/3/8/22967598/chargers-news-nfl-mike-williams
Categorized as: 2022 NFL Blog,3DPT's NFL Injury Review