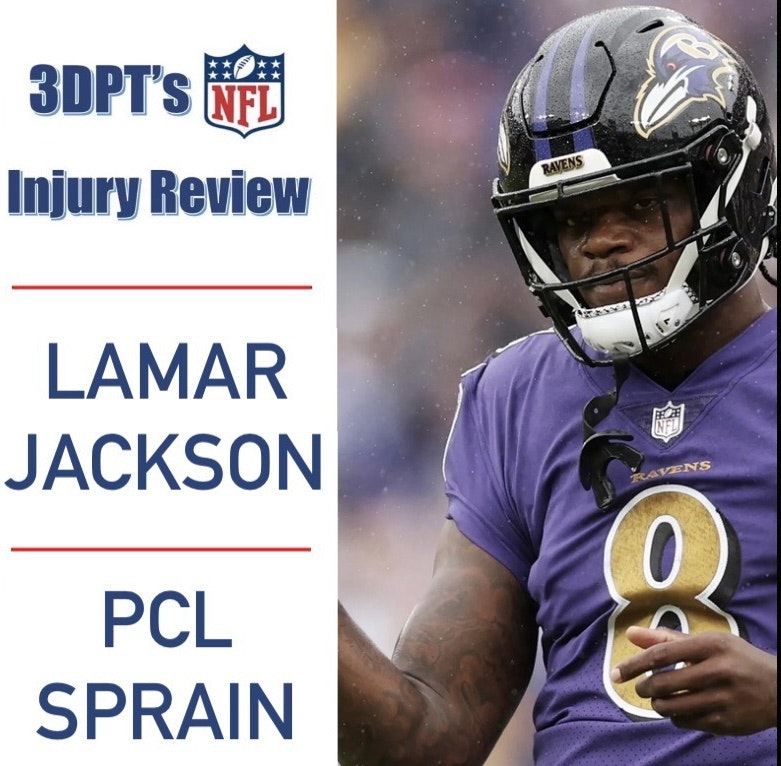 At a Glance
Player: Lamar Jackson
Position: Quarterback
Team: Baltimore Ravens
Injury: Knee sprain
Projected Recovery Time: 8 weeks – 9 +months
Fans were completely enthralled with this weekend's game between the Ravens and Bengals. The Ravens almost pulled it off (we don't have to talk about it), and what is even more impressive is that they had a great game without their star QB, Lamar Jackson. Jackson was injured during Week 13 against the Broncos and hasn't played since. Details of the injury have recently been disclosed thanks to Lamar, and apparently, he has suffered a pretty significant PCL sprain (grade 2-3) that has led to significant instability and swelling of the knee, preventing him from being able to participate in any capacity in this weekend's game. With the Raven's season-ending loss, Lamar will have plenty of time to recover, though he has a decision to make: to continue to treat his knee conservatively or opt to get surgery to reconstruct the PCL.
This decision significantly affects Lamar's recovery time. With conservative treatment, he may be ready to return to game-like activities. However, if he gets surgery, he will have a longer recovery as it takes several months for the new PCL to be able to withstand game-like stresses, and he could miss the start of the regular season. Regardless of what Lamar decides to do, his rehab will focus on improving knee stability and lower body strength. Hopefully he will be healthy by the time the Ravens start camp to help them with their comeback season.
In this video, the 3DPT team demonstrates a few exercises that could be incorporated into a rehab program for a knee sprain.
Early Stage: banded hamstring curl
Late Stage: Y slider lunges
Return to Sport: Resisted sprints
Source: https://andscape.com/features/lamar-jacksons-contract-fight-could-impact-future-generations-of-nfl-players/
Categorized as: 2022 NFL Blog,3DPT's NFL Injury Review