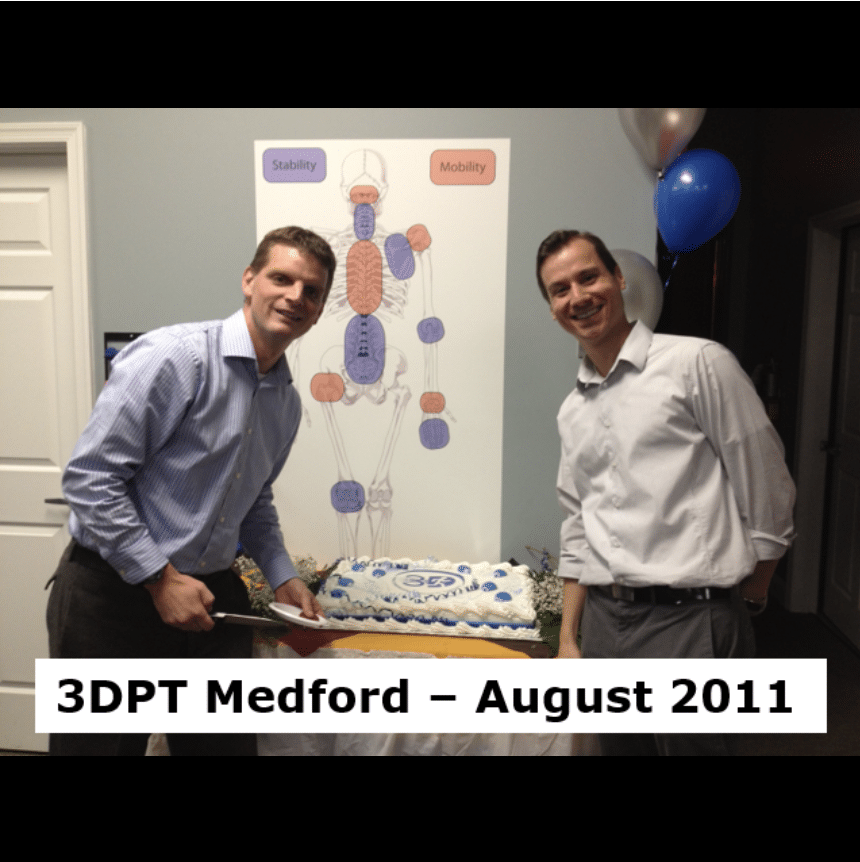 On August 18, 2021 3DPT officially turns 10!  It's crazy to believe how fast 10 years have gone by. Sometimes the days and the weeks are slow, but 10 years in business really has gone by fast.
Parents often talk about how quickly it seems their kids grow up and it's true! My kids are now 9 and 11 (Ken and I started 3DPT in the middle of them being born!) and whenever I see pictures of them as babies or toddlers, it makes me a little sad that they have grown out of that stage and I can no longer scoop them up and hold them like I used to.
But unlike with my kids, it doesn't make me sad at all to think about 3DPT back in the first few years that we were open. Like all small business owners, Ken and I were working crazy hours, doing everything we could think of in order to get the business going. Our biggest worry in the early days was having enough people to treat in order to keep the doors open. Now we have grown more than we could have ever imagined – 5 offices with 2 more coming soon.
Just the other day I ran into a former patient who came into 3DPT in our first year of being open. As we were talking, she asked how 3DPT was doing and I told her that we were celebrating our 10 year anniversary this month. Her response was "10 years! Has it already been 10 years?" She was also blown away at how fast those 10 years had gone by.
And so are Ken and I!  3DPT has defied the odds, as only 30% of small businesses make it to the 10 year mark. So when I think back to the early days of 3DPT I get a feeling of pride and I get excited to think about what will happen with 3DPT in the next 10 years.
So how did 3DPT get to our 10th year?  There are a few reasons that come to mind. First, we wanted 3DPT to be the type of  place where we would want to work and where we'd want our own families to want to go for physical therapy. Keeping that and our Core Values top of mind has helped guide every decision from who we hire to how we work with our patients. (Click here to learn more about our core values!)
Second, Ken and I were smart enough to realize that the two of us alone did not have enough hours in the day to grow the company. We prioritized hiring really great people to help us with our growth. I am proud to say that we now have 6 other partners in 3DPT and over 60 phenomenal employees who all play a role in our success.
We also realized the importance of being involved in the communities where our clinics are located. I think most people appreciate small businesses and want to support them. All of our clinics look to develop great relationships with patients, physicians and partners in our communities and strive to be recognized as leaders.
10 years in business also warrants a "thank you" to a wide array of people, so I am going to list the 3 most important right here:
Our family – especially our wives who are understanding of the time commitment it takes to run a business
Our patients – we are honored you have chosen 3DPT to help you achieve better health!
Our 3DPT family (employees) – we are grateful for your hard work every day and know none of this is possible without you!
Knowing how fast our first 10 years have gone, we're looking forward to celebrating lots more over the next 10 years!
Click here for a message from 3DPT's other co-founder, Ken Guzzardo.
PS To celebrate our 10 anniversary, we are throwing a big party & inviting our partners, communities and friends to help us celebrate.
On September 2nd from 5-8 pm at Medford's Freedom Park, join us and other local businesses for a Small Business Community Block Party!
Get to know the businesses & neighbors that make our communities amazing AND stay for the live music food trucks, an inflatable obstacle course, prizes, games like pop-a-shot bball, speed pitch and soccer darts and more
Click here for more information.
Categorized as: Articles