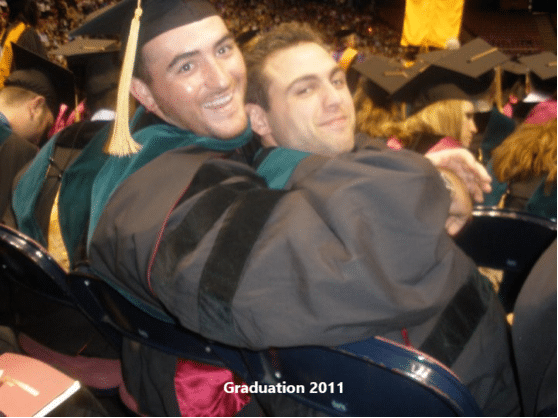 3DPT Cherry Hill is opening August 1st!!!
You may have heard by now that 3DPT is growing! Over the next few months our 3 locations will become 5 – with new clinics in Cherry Hill and Tabernacle. We're so grateful and excited for the opportunity to help more people by providing excellent physical therapy!
Our newest office in Cherry Hill be opening next week on August 1st!
Chuck Bachi, who heads up our Haddon Township office and Anthony Perrone, in our Medford office, will be joining forces to lead 3DPT Cherry Hill. Incredibly, this collaboration has been 11 years in the making! Anthony and Chuck met on the first day of graduate school at Rutgers University in Newark in August 2008. Anthony and Chuck became great friends, frequently studying together, pushing each other to be better students and clinicians and helping each other with complicated patient cases during clinical affiliations. They are both passionate about helping people through Physical Therapy and had aspirations to own a physical therapy practice together at some point in their careers.
After graduation, Anthony and Chuck worked in outpatient Physical Therapy practices in North Jersey to begin their careers. From the start, they both had patients tell them about the differences they experienced with their treatment – how at other PT places they had felt like a number, didn't get hands-on treatment and would be left alone while doing exercises. Chuck and Anthony shared a different approach – no one is treated like a number, each patient has an individualized physical therapy plan of care specific to their needs and gets one-on-one, hands-on treatment.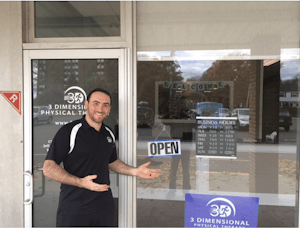 After 4 years, Chuck moved to South Jersey and started working at 3DPT in Medford, a company that matched his physical therapy approach of personalized care. In 2016, 3DPT's owners Ken Guzzardo and Jeff Sallade offered Chuck a unique opportunity to partner with them to open our Haddon Township office!
Even though Anthony and Chuck lived quite a distance apart, they remained close friends. They traveled to and presented at national physical therapy conferences together over the years. Additionally, they spent time studying together to become board certified clinical specialists in sports and orthopedic physical therapy. Physical therapists who are dual board-certified specialists are rare so it was rewarding to achieve their certifications together!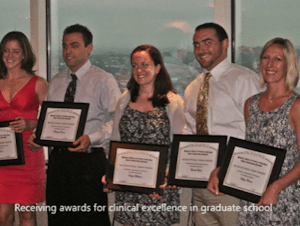 In 2019, as luck would have it, Anthony ended up relocating to South Jersey when his girlfriend began her pediatric residence at Cooper Hospital. Of course, Chuck recruited Anthony to work at 3DPT as soon as possible, knowing that Anthony's philosophy of treatment aligned with 3DPT's commitment to excellence in patient care. Around the same time, 3DPT was approached with an opportunity to expand into a newly constructed, 6,000 square foot clinic in Cherry Hill – a space already designed for a Physical Therapy Practice! Jeff, Ken, Chuck and Anthony saw this as a great opportunity for 3DPT to grow and Chuck and Anthony's vision to be PT partners became a reality!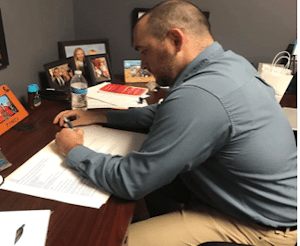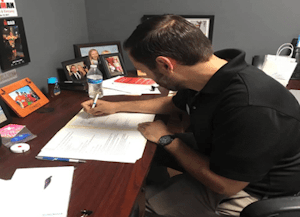 Officially Partners!
3DPT Cherry Hill opens its doors on August 1, 2019! Chuck will be treating in both Cherry Hill and Haddon Township and Anthony will be in the new office full time. Be sure to follow us on Facebook and Instagram for ongoing updates and news from Cherry Hill!
We are excited to share the excellent physical therapy and patient care that all 3 Dimensional Physical Therapy clinics offer to new patients! To schedule an appointment at the Cherry Hill office, call us at 856-438-5633.
3DPT Cherry Hill
496 Kings Highway North, Suite 110
Cherry Hill, NJ 08034
856-438-5633
Did we mention, Chuck and Anthony both have birthdays in August? What better way to celebrate!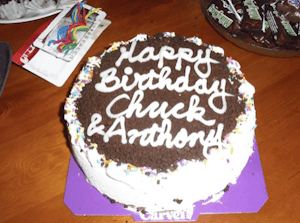 Categorized as: Articles