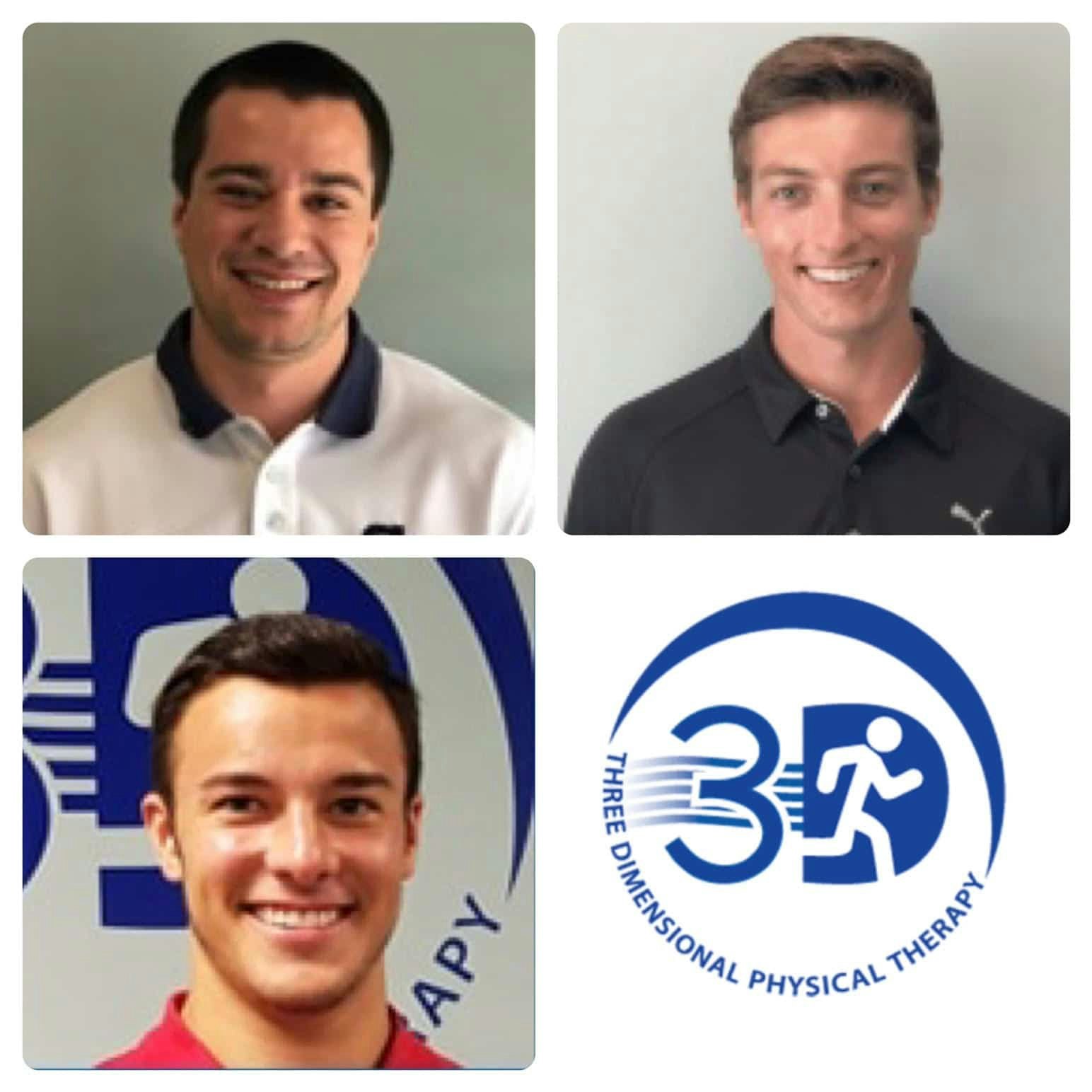 If you have been to one of our PT clinics, you have likely had the chance to interact with our physical therapy aides. The PT aides at 3 Dimensional Physical Therapy assist the physical therapists with providing the best experience possible for all of our patients. They help to keep the clinic looking great, provide patients with heat or ice, and help patients get set up with exercises to keep their session moving along efficiently.
At 3DPT, we have been lucky to hire outstanding people as our PT aides. We prefer to hire people who have an interest in the healthcare field – someone who plans to move forward in a healthcare profession. Over the years, we have had numerous employees who worked as PT aides get accepted into graduate school for physical therapy as well as programs for occupational therapy, nursing, athletic training and physician assistant. It is rewarding to be able to act as a stepping stone for all of these employees as they work their way towards their end goal of becoming licensed healthcare providers.
We have 3 current employees who have recently been accepted into Graduate school for Physical therapy and will be leaving us over the next few months. Pat Fryer and Dominic Bilello, both PT aides in our Medford office, and Zach Bille, aide in our Haddon Township office will all soon be Doctors of Physical Therapy!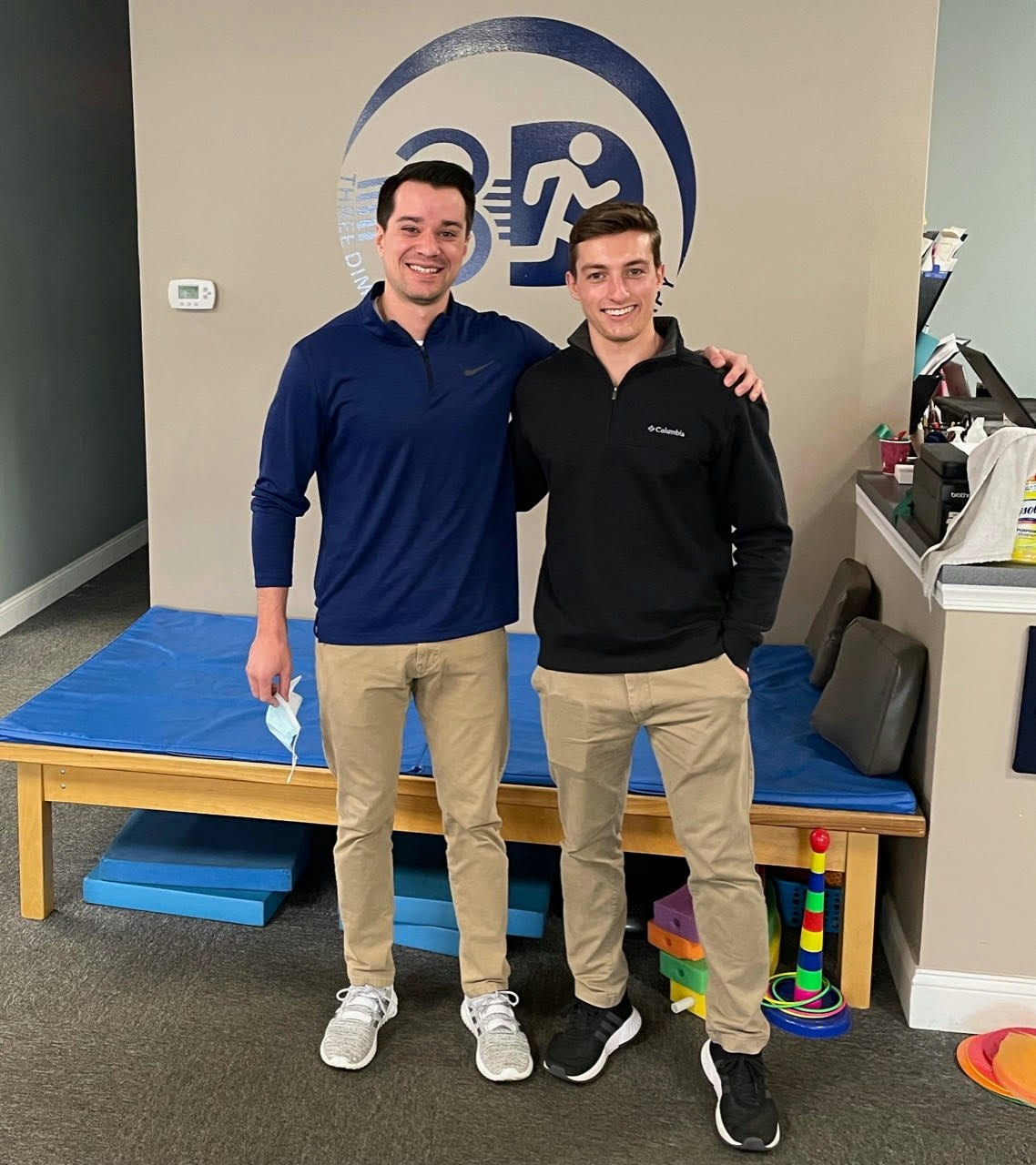 Pat and Dom have been some of the best aides 3DPT Medford has had the pleasure of working with. They always go above and beyond what they were required to do and exhibit all of the 3DPT core values. They truly care about all of our patients and we often receive comments about how respectful and great they are. We are so proud of them for getting into school and we know they are going to be excellent physical therapists.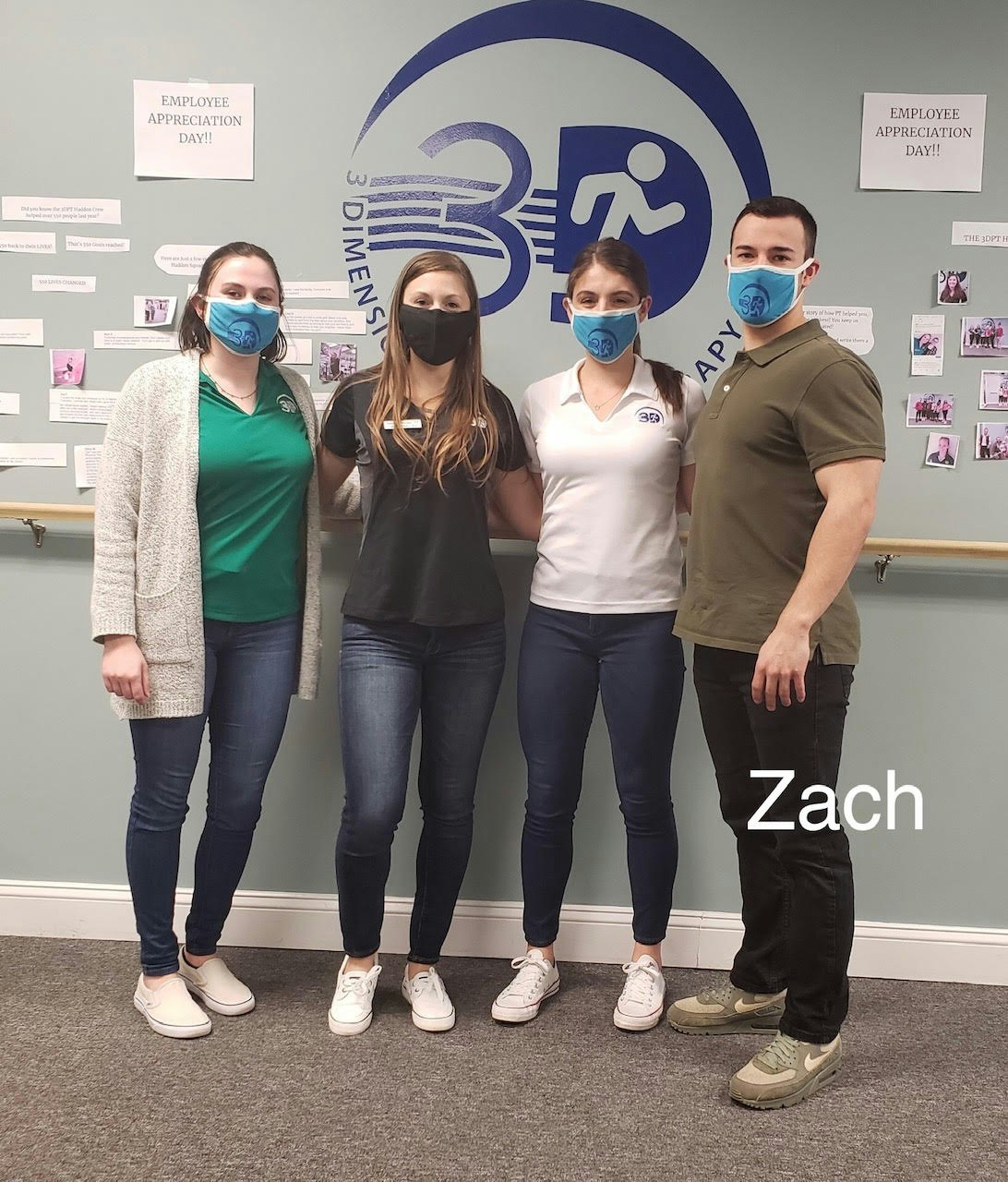 Zach has been working at 3DPT Haddon Township since his high school years. He has gone from helping the therapists a few hours a week after his soccer practices, to being our Lead Aide. He has shown that he is versatile in any role and any task we have given him. He has been in charge of ordering supplies, has learned the front desk duties and even does marketing tasks for us. Patients are always commenting at what a nice young man Zach is and how easy he is to talk to. Zach is known for getting patients water while they ice and engaging them in conversations. He has shown true interest in pursuing Physical Therapy as his career by asking to sit in on evaluations and ask questions about what patients are doing. We are so excited and proud of him for getting into PT school!
Fun Fact: Zach has been a willing participant in MANY of our YouTube videos demonstrating PT exercises!
Here's what all 3 guys had to say about their time at 3DPT and their next steps:
Pat
I will be attending George Washington University for Physical Therapy starting August of this year. I could not be more excited for this opportunity to pursue a career I'm so passionate about. George Washington is located in Washington DC with countless opportunities nearby to explore the many different fields within physical therapy. I can't wait to start this new journey, but it will definitely be sad leaving 3 Dimensional Physical Therapy. I've been working as a physical therapy aide here for almost 3 years now and I can confidently say that it has been the best job I've ever had. The people I work with, the patients I've connected with and the everyday environment of the clinic are unmatched. These are just a few of the many things I'll miss about 3D when I go off to PT school. I can't thank everyone at 3DPT enough for the opportunity they presented me with, I know that I wouldn't be here without the help of everyone along the way. Although the Physical Therapy program spans 3 years it's never too early to start looking ahead! I hope to one day have my own clinic and have the same impact on my patients and community that 3D has on the communities around South Jersey. I know that there's a long road ahead of me, but I'm ready for it. Thank you again to everyone at 3DPT
Dom
After graduating from West Chester University, I wanted to work in a PT clinic during my gap year to gain more knowledge about the field and develop skills to apply in PT school. Working at 3DPT has definitely checked these boxes and exceeded what I thought I would learn as an aide. After observing the therapists at 3DPT each day, I've determined that after PT school I want to work in a similar outpatient setting that provides therapy for a variety of different populations. In my opinion, treating all different types of patients is not only more exciting, but also creates a more skillful professional. Because I work closely with a diverse group of patients, I'm now familiar with how to correctly demonstrate and teach an array of therapeutic exercises to patients. I've also learned how a PT would progress a patient's exercise, why they might modify a treatment, and why they would choose one exercise over another. All of these skills will be extremely useful in a DPT program. I'm thrilled to have started working at 3D during the beginning of my PT school application process because the guidance I received from every therapist during the entire process was pivotal to me being accepted into DPT programs. I'm incredibly thankful for all the times a therapist at 3D went out of their way to tell me about their application experiences, helped me prepare for interview questions, and provided insight on what factors to weigh when choosing between different DPT programs. I'm excited to say that I've chosen to undergo Widener's DPT program beginning this summer. Thank you 3D for being such a big part of this journey and for all the help along the way!
Zach
Following the completion of my Bachelor's degree at Rowan University I will be attending Stockton University's Doctorate of Physical Therapy program. Getting to this position would have largely been an uphill battle if it were not for the help of those at 3DPT. The therapists who work for the company are very knowledgeable and have greatly helped me navigate this difficult process. After my time at Stockton is finished I am looking to become an established physical therapist and eventually own a clinic myself, maybe even as a part of 3D! I am very grateful for the time I've been able to spend learning under the guidance of those at 3D and I am looking forward to my future with the company.
Categorized as: Articles