At 3DPT, our goal is to help our patients feel great – in every way we can! That means a customized physical therapy plan and hands-on care from a PT, but it also means helping to alleviate the burden of figuring out insurance coverage for your visits with us.
That's where our Authorizations team comes in! They work everyday to ensure that 3DPT patients can focus on their physical therapy without having to worry about co-pays and coverage. The Authorizations team plays a huge part in helping us deliver the best overall experience to our patients, and one of the stars of the team is Maryann Maloney! In fact, as a patient of 3DPT, you may have met Maryann even before you met your PT.
Maryann verifies all of our new patients' benefits prior to them starting treatment by calling their insurance company to check physical therapy benefits and accumulations. She then calls the patient to let them know their patient cost-sharing responsibility and other applicable requirements (pre-auth/referrals, etc.) – all before the first appointment! She's the super kind voice you only hear over the phone and never get to meet in person!
Maryann's role helps set the tone for the patient experience at 3DPT before you even walk in the door at any of the clinics. As you can imagine, Maryann is very busy since she is responsible for all of our 5 locations and all of the new patient appointments.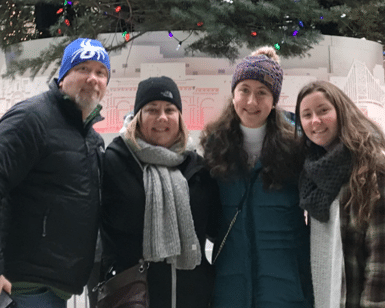 ---
Here's a little bit about Maryann:
Maryann Maloney grew up in Delaware County, PA but has been living in Medford for 23 years with her husband and three children who are 22, 19 and 18 years old. The family enjoys spending time together in the winter, skiing and in the summer, they love going to the beach. (They're looking forward to a fun, relaxing trip to the Outer Banks this July!)
Some other fun facts: Maryann's favorite food is Lobster Mac n' Cheese from Braddock's Tavern and her favorite movie is The Notebook!
Prior to working at 3DPT, Maryann worked at IBM for 17 years on the Astrazeneca Pharmaceuticals contract as a project manager. When she left IBM, Maryann worked part time for a pharmaceutical company, then joined the 3DPT team in July of 2019 in the Authorizations department and so far, so great! She really enjoys her job and being in a company that cares about their employees, and we couldn't be happier that she's a part of the team! Maryann and the entire Billing and Authorizations team are truly heroes at 3DPT!
Categorized as: Articles