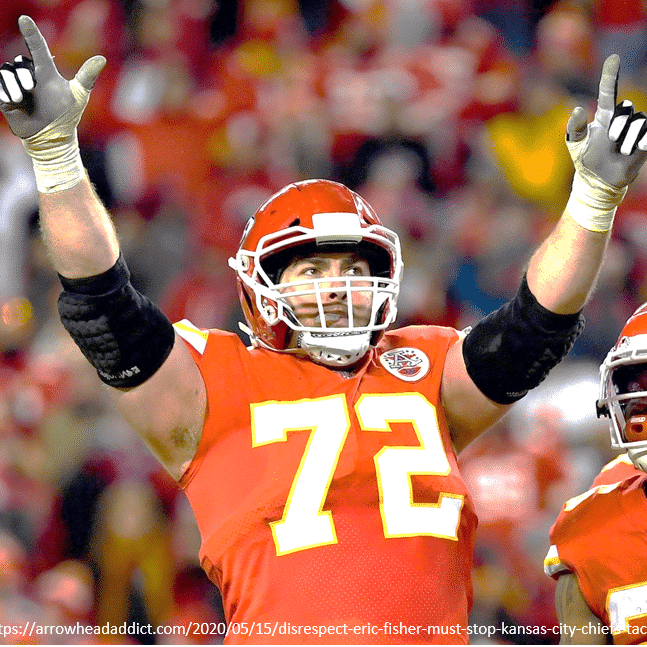 At a Glance –
Player: Eric Fisher
Position: Left Tackle
Team: Kansas City Chiefs
Injury: Torn Achilles
Projected Recovery Time: 9-12 months
The Kansas City Chiefs dominated against the Buffalo Bills in the week's semifinal matchup, securing the AFC championship for the second straight year. Though the repeat AFC Champs have much to celebrate this week, they also (once again) have to shuffle players on the offensive line due to a major loss of Left Tackle, Eric Fisher. Fisher, who has protected Mahomes' blindside throughout this season and was an important contribution to the Chief's formidable offense, was injured during the fourth quarter of the AFC championship. He was ruled out of the rest of the game with an ankle injury, which has since been identified as an achilles tendon rupture. Unfortunately, Fisher will miss one of the most important games of his career: Super Bowl LV. The Chiefs will have to face Tom Brady and the Buccaneers without one of the most important players on the team on February 7th, and he may not return to practice with them until October – at the absolute earliest.
Achilles tendon ruptures require surgical intervention if a person wants to return to higher level function. It is one of the hardest lower body injuries to rehab. Soon after surgery, in which the tendon is reattached to the insertion site at the heel, physical therapy is incorporated to maintain knee and hip strength, as well to slowly build up ankle strength and flexibility. During the early phases of rehab, calf stretching and active use are restricted, but gentle exercises that avoid calf muscle use and tension can be incorporated to prevent atrophy and tightness in unaffected ankle musculature. Fisher will be immobilized in a boot for the first 6-8 weeks post-op to protect the repair, and his PT team will help him wean off the boot and normalize his walking. He won't be able to formally perform a heel raise until ~3 months out, and it can take 6+ months for him to perform a single leg heel raise that is comparable to the unaffected side. Plyometrics and football drills won't be initiated until 6 months out to protect the repair. A large focus of Fisher's rehabilitation will be on restoring power to the Achilles so that he can return to left tackle, a position that requires lower body agility and strength to block and protect the quarterback. This process can take 9 months or longer, and any asymmetry between legs predisposes Fisher for re-injury. Unfortunately, the Chiefs will have to face the Buccaneers, who have one of the best edge rushing defenses in the league, a few weeks from now without one of their best linemen. We will have to wait and see if this injury impacts Mahomes and the outcome of the game, but one thing we do know for certain is that we're in for a great game on February 7th.
Sources:
https://www.cbssports.com/nfl/news/chiefs-eric-fisher-will-miss-2021-super-bowl-after-tearing-achilles-in-afc-championship-game-per-report/
Categorized as: 2020 NFL Blog