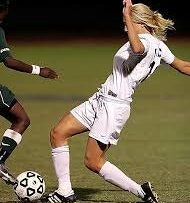 Among athletes, no matter the sport, the words "ACL tear" are probably among the most dreaded. The ACL, or Anterior Cruciate Ligament, is a ligament that provides stability to the knee. A tear to the ACL can happen to anyone, but in many cases, tears occur in athletes of sports that require explosive movement, like football, soccer, lacrosse and dance. Surprisingly 70% of ACL injuries are non-contact related!
At 3DPT we treat A LOT of patients with ACL injuries! And the great news is there is a (sports) life after an ACL tear! With surgery (and in some cases without) and a good PT program, most athletes are able to return to activities and high level sports without issue.
In fact, some of your favorite athletes may have had multiple ACL injuries. Megan Rapinoe of the Women's National Soccer team tore her ACL 3 times and then went on to help her team win the World Cup last summer. And Rapinoe is not alone – her teammate, Alex Morgan also tore her ACL. Women are 3x more likely to tear their ACLs than men and among high schoolers, girls account for a significant proportion of ACL injuries, particularly girls who play soccer, since most ACL injuries come from repetitive strain or twisting, rather than being hit or tackled by another player.
Unfortunately, the incidence of ACL injuries among young athletes has dramatically increased over the last 10 years. A recently published article cites a clinic in Philadelphia saw a 400% increase in ACL surgeries in teens since 2009! (click here to read the article)
So what can athletes do to protect themselves from injury? Preventative Training!
And that's exactly the proactive approach that 2 teams of the REAL Jersey Football Club have taken to protect their players. REAL Football Club is an elite soccer program based in South Jersey and one of the best youth soccer programs nationwide. 3DPT has partnered with the 2005 and 2007 girls REAL JFC teams to provide an 8 week hands-on injury prevention program to teach the players the best exercises and correct form to help minimize the risk of injury. And as part of the 3DPT's Guide to ACL Prevention we'll be sharing tips, information and excerpts of the program with you!
So let's get started!
Week 1 of the REAL injury prevention program focused on assessment and warming up.
Often, young female athletes demonstrate poor knee control during jumping activities where the knees tend to dive in towards each other, increasing stress on the ligaments. So in our first session with REAL we evaluated each player's jumping mechanics and knee control in a series of exercises. We'll be measuring their performance in these areas as the program progresses!
Additionally, we taught the players a Dynamic Warm Up that they can use to start each practice and game to get their bodies ready to handle the stresses of high level athletics. A good warm up includes dynamic stretching, agility, plyometrics, and muscle activation.
Click here to see Dr. Carlie Strazzullo demonstrate a dynamic warm up appropriate to get ready for any sporting activity:
Here is a video of the players giving it a try themselves:
Check in with us every week for 3DPT's Guide to ACL Prevention to see more recommendations to stay injury free!
Categorized as: ACL Injury Prevention Resources