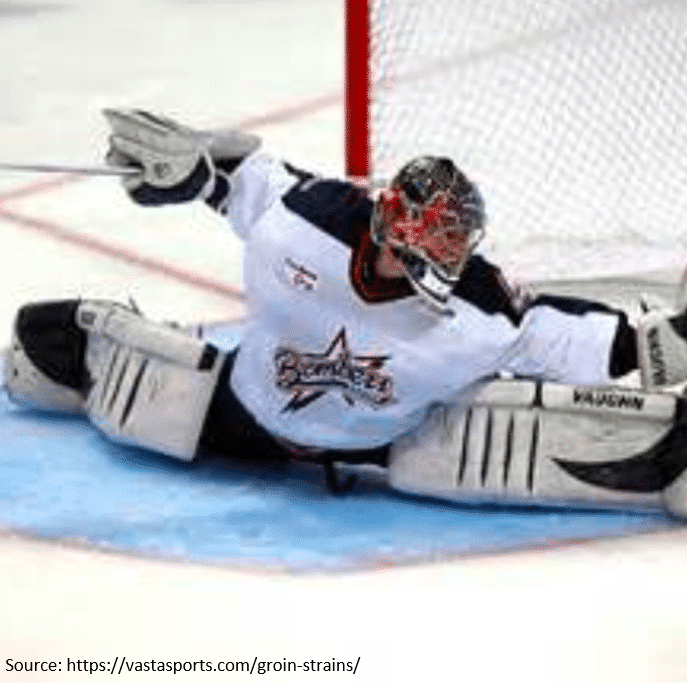 Groin strains are one of the most common injuries sustained in ice hockey. With the high speed nature of the sport and demand for quick changes of direction, the muscles on the inside of the leg are at a high risk of injury. Fortunately there is a lot you can do to decrease your risk of injury.
Groin strains can include one of several muscles that surround your hip. Their primary function is to assist with stability of the leg you are standing on or to bring your leg closer to the opposite side. In hockey specifically these muscles go from being stretched to quickly contracted when skating with powerful strides. The two main risk factors for injury are lack of hip motion or strength of the inside hip muscles. We will address those two factors with the exercises below, but remember these are to decrease the risk of a healthy athlete developing an injury. If you are injured it is important to see a Physical Therapist or health professional who can assess the injury further.
Copenhagen plank
This is a challenging exercise that targets the hip adductors. It is important to perform with a flat back to prevent any compensations. This will help incorporate core strength with adductor strength. There are several variations in the video above so start with the easiest and work up as able.
Single leg landing
This exercise will help with stability. All the muscles of the hip will be recruited to help with balance and stability which will help with pushing off and changing direction effectively. Be sure to watch the video to perform with proper form.
Hip abduction stretch
This is an important stretch to include in a strength and conditioning program. The less resistance there is bringing your legs wide will decrease the risk of a muscle strain. Try to allow at least 10 minutes per day for full lower body stretching.
Categorized as: Articles