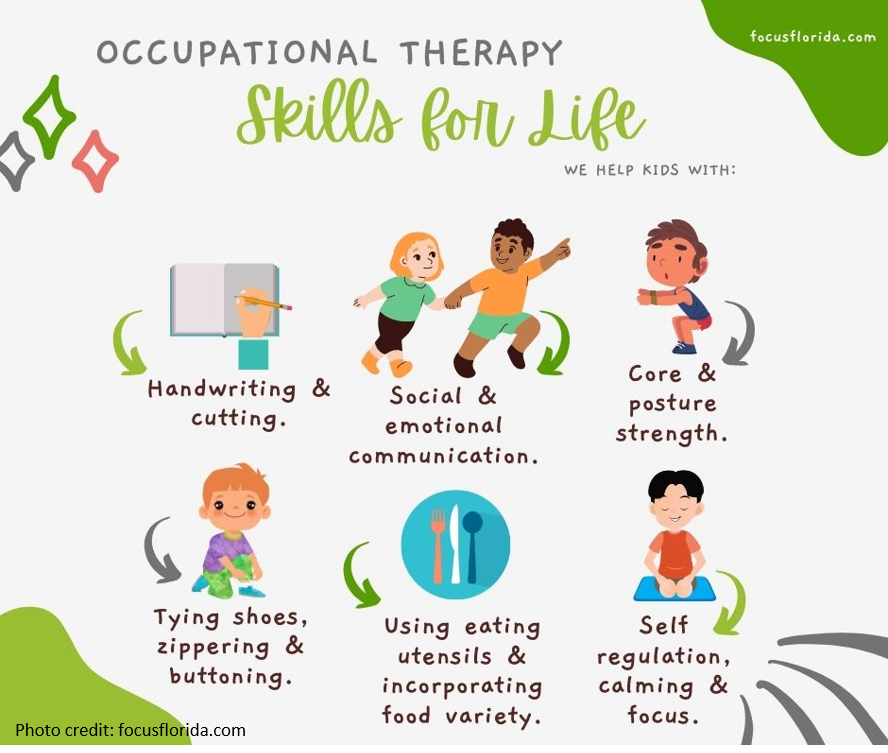 Nicole Matyas, MS, OTR/L, CBIS


Occupational therapy (OT) is a type of rehabilitative therapy that aids individuals in achieving independence in activities of daily living. OT addresses individuals' physical, sensory, and cognitive deficits through the practice of everyday activities. For children specifically, this can look like a variety of things, such as: strengthening fine and visual-motor skills needed for grasp and release of toys, working on eye-hand coordination for improved ability to use a fork to self-feed, addressing functional visual deficits to improve handwriting skills, or mastering one's age-appropriate self-help skills such as getting dressed or brushing teeth.
There is a variety of diagnoses that may lead to limitations that impact a child's ability to perform the above age-appropriate tasks. To name a few: developmental delays, hand injuries, brain injuries, or developmental coordination disorder.
As far as an OT's educational background, they obtain a Master of Science degree in Occupational Therapy through a 2-year Master's program following a Bachelor's degree, complete at least two 12-week clinical rotations, and then go on to pass a national certification exam and state licensure. In the state of New Jersey, occupational therapists must also maintain a certain number of continuing education hours every 2 years. Once licensed, pediatric OT's can be found in rehabilitation or acute care hospitals, school, practice practices, outpatient clinics, mental health facilities, or in the home through early intervention services.
What can I expect at my child's initial evaluation at 3DPT?

Depending on what your child is getting evaluated for, your first day in OT at 3D might look a little different from one patient to the next. Most evaluations will consist of a parent/child interview to get a history and background regarding your reason for seeking out services, and clinical observation portion in which your OT will examine your child completing a variety of tasks and activities to determine functional deficits. An additional part of the evaluation could also involve a standardized test, if appropriate, to determine percentiles in specific areas, such as fine motor skills, as a means of getting a baseline score, and then using this information to reassess throughout their plan of care. Once the evaluation is complete, your child's treatment plan will be individualized to best fit their needs, with incorporating your child's interests and favored activities within therapeutic activities. The reason for this is because evidence has shown more favorable outcomes when skills are addressed directly through meaningful activities. Your OT will also be in constant communication with you about how to implement a home program to ensure carryover of gains made in therapy to all other environments your child participates in, because after all, everywhere else, whether it be home, school, practice, etc., is where their performance truly matters!