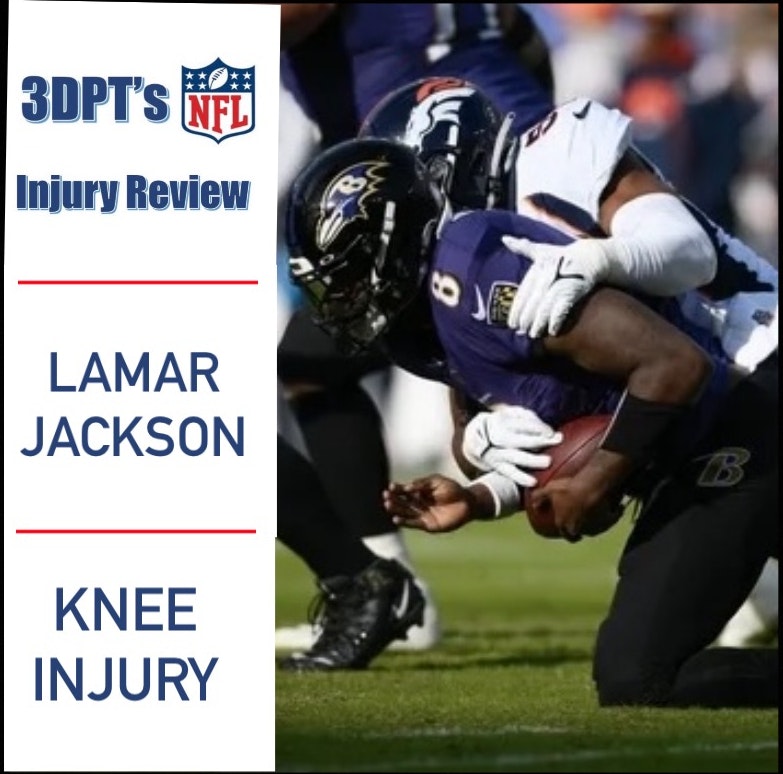 At a Glance –
Player: Lamar Jackson
Position: Quarterback
Team: Baltimore Ravens
Injury: Non-Specific Knee Injury
Projected Recovery Time: week by week.
The Ravens are currently first in the AFC North, but in order to maintain that standing, the Ravens will have to get by without the help of their quarterback, Lamar Jackson, at least for this upcoming week. During the Ravens' game against the Broncos, Jackson was sacked at the end of the quarter and left the field limping. Reports confirmed a knee injury, but the extent of the injury has not been disclosed. Recently, Jim Harbaugh, the Ravens' coach, has said that Lamar is "week to week" and likely not missing the remainder of the season, which is promising news for the Ravens. However, it is likely he will miss some time, starting with this week's upcoming game against the Steelers.
Lamar will be spending the majority of his time with his physical therapist in an effort to return to play as quickly (and safely) as possible. It is likely that Jackson is experiencing a good deal of pain, and early strategies will focus on reducing inflammation and pain levels. Ice, electrical stim, and manual techniques are some of the many tools his physical therapist will likely utilize to reduce those higher pain levels so that Lamar can return to activity with improved tolerance. Once Lamar's pain levels are lower, there will be a return to sport program he will participate in to ensure that, upon return to playing QB, he will not sustain further injury, which unfortunately is very common when returning after a lower extremity injury. His physical therapy will likely include glute strengthening exercises, which will help stabilize the knee, as well as focusing on quad strength, which is often diminished post-injury. Single leg stability and power will be targeted as soon as possible, as Lamar requires stability and power to perform his duties as a mobile quarterback. It is unknown just when he will be ready to return, but for the time being, the Ravens will have to rely on a backup to keep their playoff dreams alive.
In this video, the 3DPT demonstrates a few exercises that could be incorporated into a rehab program for an un-specific knee injury.
Early Stage: Weighted wall sit
Late Stage: Reverse nordic curl
Return to Sport: Lateral movement/sprint over hurdles
Source: https://www.usatoday.com/story/sports/nfl/ravens/2022/12/04/lamar-jackson-knee-injury-ravens-broncos/10833665002/
Categorized as: 2022 NFL Blog,3DPT's NFL Injury Review