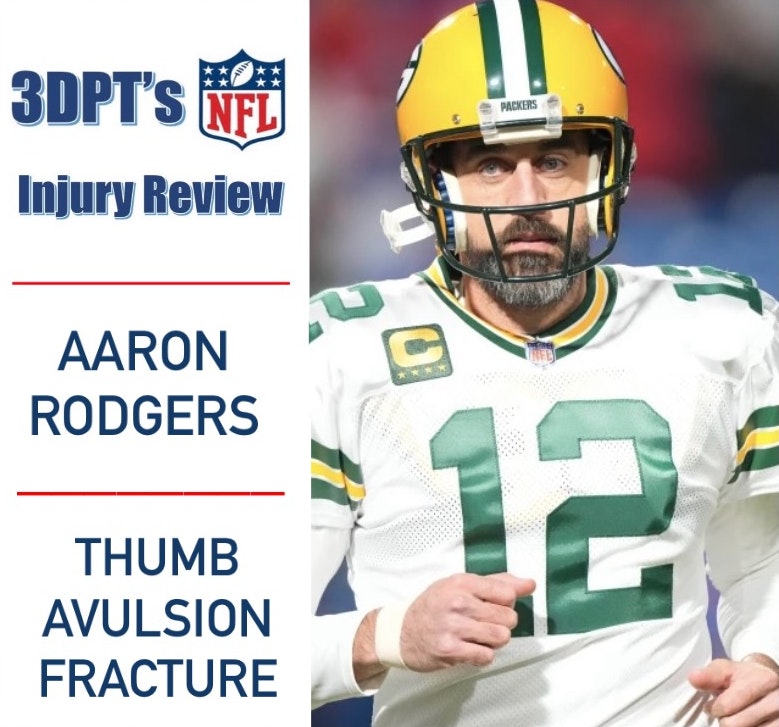 At a Glance –
Player: Aaron Rodgers
Position: Quarterback
Team: Green Bay Packers
Injury: Avulsion Fracture of Thumb
Projected Recovery Time: 2-8 weeks.
The Green Bay Packers have had a very disappointing year, to say the least. The reigning NFC North Champions have struggled on both offensive and defensive ends of the ball, and an injury to their star QB, Aaron Rodgers, has only made matters worse. Rodgers apparently suffered a thumb injury during Week 5 of this season but has opted to continue playing despite that injury, though many reports suggest that this injury will likely require surgery to correct. Rodgers did leave during this past week's game against the Eagles but is expected to continue to play in the upcoming weeks.
Rodgers supposedly sustained an avulsion fracture of his thumb, meaning that with this injury, the ligament in the thumb actually pulls a piece of the bone away. Again, surgery is almost always recommended, especially with returning to such a high level of activity. As of right now, Rodgers is opting to undergo conservative management, and he is likely working with his PT to make it through each week. A lot of time will be dedicated to pain management, as Rodgers himself has admitted he has been dealing with thumb pain. Exercises will also be geared towards building and maintaining grip strength, as well as the general dexterity of the thumb. If Rodgers is able to make it through the regular season without surgery, he may opt for conservative management if the fracture is healing correctly. However, if there are any issues with healing, Rodgers will likely have to undergo surgery to repair the fracture, which usually takes about 6-8 weeks to heal post-op. Whether the Packers make the Wild Card or miss playoffs, Rodgers has quite a few games to get through before the end of the season, and his PT is essential in helping him get there successfully.
In this video, the 3DPT demonstrates a few exercises that could be incorporated into a rehab program for an avulsion fracture of thumb.
Early Stage: Pinches down putty
Late Stage: Farmer Carries with dumbbells
Return to Sport: Soft tossing with football
Source: https://packerswire.usatoday.com/2022/11/10/how-much-is-a-thumb-injury-hurting-packers-qb-aaron-rodgers/
Categorized as: 2022 NFL Blog,3DPT's NFL Injury Review