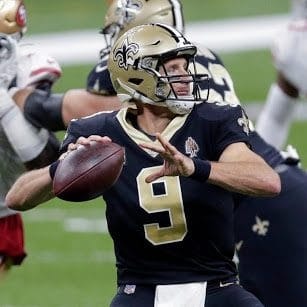 At a Glance –
Player: Drew Brees
Position: Quarterback
Team: New Orleans Saints
Injury: Rib Fractures, Punctured Lung
Projected Recovery Time: 3-8 weeks
The New Orleans Saints' seem to be Super Bowl contenders every year. With Drew Brees at the helm, this team is virtually unstoppable. However, Brees suffered some pretty serious injuries over the past 2 weeks that will put the rest of this team's talent to the test. During his Week 9 win over the Buccaneers, Brees apparently sustained rib fractures that went undiagnosed despite pain and discomfort that he felt while playing. This injury became more severe when he was hit during the first half of the Saints vs 49ers. Brees reportedly had chest pain and difficulty breathing that was significant enough to pull himself out of the game, and he did not return in the second half. Reports confirmed Brees sustained at least 5 total rib fractures, as well as a punctured right lung. He is out indefinitely and consulting multiple medical professionals to determine when the best (and safest) time is to return.
Fractured ribs are very common but dangerous injuries in contact sports. They are difficult to diagnose as symptoms typically present as chest pain, or even difficulty breathing. One of the biggest risks of fractured ribs going undetected is that they can cause a lung to be punctured, which then may lead to a collapsed lung. This particular scenario unfolded for Brees during this week's matchup against the 49ers as he suffered a punctured lung (also known as a traumatic pneumothorax) from his fractured ribs, and the upcoming weeks will be focused on allowing the rib fractures and lung to heal. Fractured ribs typically heal on their own, with pain being managed by ice, but treatment for a punctured lung depends on the severity of the damage to the lung. A smaller pneumothorax can sometimes heal on its own, but a larger pneumothorax typically requires the placement of a chest tube to help keep the lung inflated while draining air from areas it shouldn't be in the chest cavity. One of the biggest complications after suffering a pneumothorax is experiencing another one, which is why it is imperative that Brees fully heals before returning to the field. It takes about 6-8 weeks for both fractured ribs and a pneumothorax to heal, and with there being only 7 weeks left until the post-season, Brees will definitely feel some pressure to return to the field. His medical team will be closely monitoring how his injuries are healing to ensure he does not return prematurely. In the meantime, Brees will be taking some time to rest to allow his injuries to recover.
Drew's physical therapy team will likely play a role during his recuperation as well to ensure that Brees minimizes his risk of complications associated with his injury. In the early phases after a pneumothorax, the risk of pneumonia is high, so his physical therapist can prescribe breathing exercises and even a lower intensity exercise program to allow the lungs to expand and expel any extra fluid that may be trapped in the respiratory tract. As he continues to recover, his PTs will prepare him for his return to football, gradually introducing him to activities to ensure he can tolerate the stress. Their biggest concern will be his respiratory response to exercise, and they will monitor his body's response through vitals to confirm he can tolerate the higher demand of football when he is cleared to play. Whether Jameis Winston is up to the task of carrying this team to the post-season during this time, however, is yet to be determined.
Sources:
https://www.uofmhealth.org/health-library/zt1003spec#:~:text=A%20fractured%20rib%20usually%20takes,ice%20on%20the%20injured%20area
https://www.healthline.com/health/punctured-lung#complications
Categorized as: 2020 NFL Blog