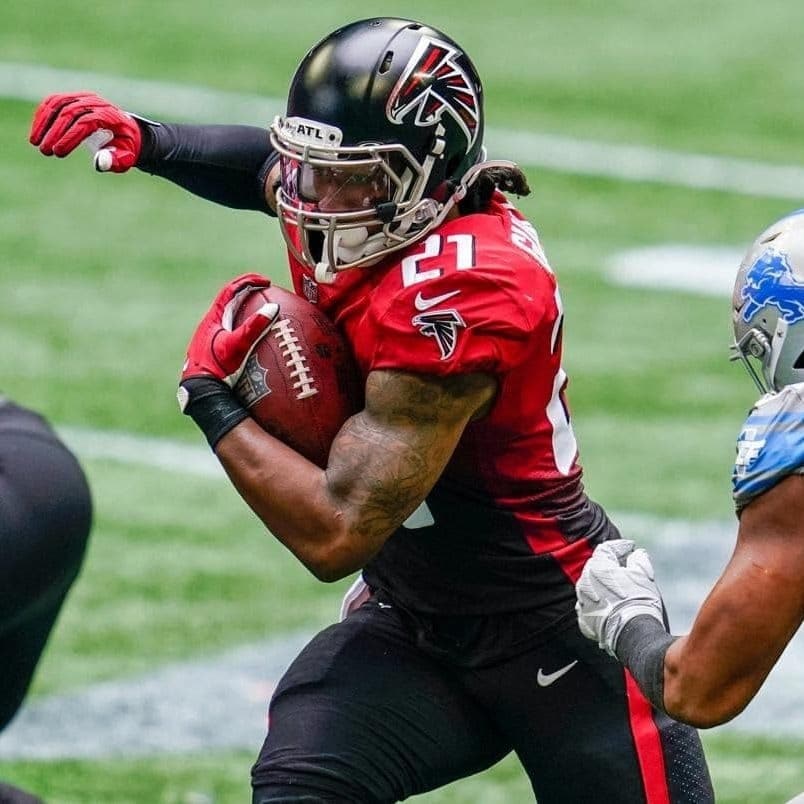 At a Glance –
Player: Todd Gurley
Position: Running back
Team: Atlanta Falcons
Injury: Knee Injury (Unspecified)
Projected Recovery Time: 1-4 wks
The Atlanta Falcons had a dominant presence this week against the Vegas Raiders. The win was ever more impressive since they were missing one of their key playmakers: Todd Gurley. Gurley, who has been one of the most impressive running backs in the league over the years, was ruled out of the game due to an unspecified knee injury. The severity of the injury was also not clarified, but reports indicate that he may return to face the Saints this week, meaning he may have aggravated an older injury. In 2014, Gurley tore his ACL while playing at the University of Georgia. Since then, Gurley has been managing knee pain that has impacted his career in the NFL, causing him to miss time and even preventing him from getting re-signed by the LA Rams, a team he helped bring to the Super Bowl in the 2018-2019 season. Sources have reported that though Gurley underwent successful ACL rehab, he is now suffering from knee osteoarthritis, a direct and common consequence of the injury. Osteoarthritis is an irreversible condition, and Gurley will be dealing with this pain for the rest of his career and beyond.
Osteoarthritis is a condition in which there is gradual degeneration of cartilage in a joint, as well as underlying bone, often associated with aging, previous injury, and increased stress on a joint. Cartilage is a type of connective tissue that lines the joints and acts to absorb shock and promote smooth gliding between bones. When an injury occurs that causes trauma and damage to the cartilage, the process of joint breakdown can occur, and this cycle may continue even after the injury is resolved. This scenario is the case for Gurley, who is now dealing with an arthritic knee at a young age due to a previous traumatic injury. Research has found a significant association between ACL tears and osteoarthritis, even if a person gets reconstructive surgery, and signs of arthritis are evident shortly after this sort of injury occurs. With the frequency of ACL tears in the league, this evidence is alarming and indicates that most players will be dealing with arthritis pains, which include pain, stiffness, swelling, and other symptoms, sooner or later. Luckily, there are ways to manage these symptoms, and physical therapy is one of the best treatment options! Though exercise can't reverse joint damage, it can help improve muscle bulk and strength around the joint so the muscle can better absorb shock, meaning that less stress will go through the joint. Gurley is likely working with his rehab team to address this most recent flare-up of pain, working on the strength of his quad, hamstring, and hip muscles, addressing inflexibility in his lower body, and helping him with activity modification. A flare-up of arthritic symptoms can occur from overuse, which wouldn't be surprising in Gurley's case due to the high demand of his position, and his PT Team will design a program that will allow him to return to football with a graded approach to avoid exacerbating his symptoms again. Gurley will likely take less reps and spend less time on the field upon his return, but he will likely be able to make it back in the upcoming weeks so long as his symptoms can be managed. The Falcons aren't technically eliminated from playoff contention yet so who knows… maybe they'll make a run!
Sources:
https://www.mayoclinic.org/diseases-conditions/osteoarthritis/symptoms-causes/syc-20351925#:~:text=Osteoarthritis%20is%20the%20most%20common,%2C%20knees%2C%20hips%20and%20spine
https://www.sandiegouniontribune.com/sports/profootballdoc/sd-sp-pfd-todd-gurley-arthritis-knee-rams-0302-story.html#:~:text=Rams%20running%20back%20Todd%20Gurley,knee%2C%20according%20to%20a%20source.&text=In%202014%20at%20Georgia%2C%20Gurley,arthritis%20is%20not%20a%20shock
Categorized as: 2020 NFL Blog