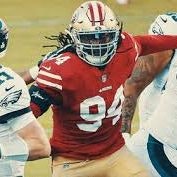 At a Glance –
Player: Ezekiel "Ziggy" Ansah
Position: Defensive End
Team: San Francisco 49ers
Injury: Bicep Tendon Tear
Projected Recovery Time: 3-7 months
The San Francisco 49ers need to replace yet another pass rusher after Week 4. After losing pro-bowler Nick Bosa to an ACL tear earlier this season, the Niners defensive line was missing a significant piece, and Ziggy Ansah was given the chance to fill that role. This opportunity was short-lived as Ansah left the game on Sunday vs the Birds after suffering an arm injury, ruled-out from play at halftime. An MRI on Monday confirmed a tear of the bicep tendon, meaning that Ansah will likely undergo surgery to repair the tear within the next week. It is unlikely that he will return to play in 2020. Bicep tendon ruptures typically occur when a strong force is applied to a bent elbow that the muscle cannot counteract, and the torn tendon can be at the level of the elbow or shoulder.  The bicep muscle is one of the main muscles responsible for elbow flexion (bending) and supination (rotating your arm so your palm faces up), and a complete tear at either tendon leads to significant loss of strength and function in the arm. Regardless of the location of the tear, physical therapy is a major portion of a person's recovery of function and return to normal activities.
After Ansah undergoes surgery to repair the bicep, surgical precautions will be in place, stabilizing his elbow and preventing him from actively using the muscle. Typically, a person is not able to contract his or her bicep for 8 full weeks post-op so focus of early programs are on maintaining wrist and shoulder strength, as both can be affected by arm immobilization. A major part of the earlier program is making sure Ansah doesn't contract his bicep muscle or put too much tension on the repair by straightening the elbow too much. After he completes this "protective phase" of his program, he can start working on restoring normal motion and strength. His physical therapist's job is to design a program that gradually loads the bicep to ensure Ansah does not over-stress the repaired tendon. The last few weeks of rehab will focus on restoring power, or the ability to exert a lot of force quickly, which is essential for his position. Defensive Ends push other players aside to get to the QB, and if he does not have adequate power or strength, the repaired tendon will be at risk and may get re-injured. Upper body stability is a key component for injury prevention, and many exercises in Ansah's later program will incorporate weight bearing positions to challenge his ability to support himself with his upper body. He will have to go through Return to Sport Testing to make sure he is ready to return to the field. Unfortunately, it takes about 3-7 months to be cleared so his chances of returning during the regular season are slim. However, if the Niners make a post-season appearance, Ziggy Ansah may be back to help them in their hunt for the Lombardi Trophy.
Sources:
https://www.gundersenhealth.org/app/files/public/1463/Sports-Medicine-Protocol-Distal-Biceps-Tendon-Repair-Tanner
https://www.espn.com/nfl/story/_/id/30049584/san-francisco-49ers-ziggy-ansah-kwaun-williams-latest-head-ir
Categorized as: 2020 NFL Blog