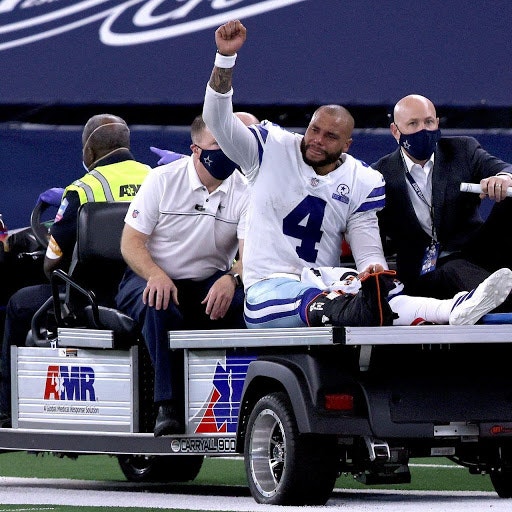 At a Glance –
Player: Dak Prescott
Position: Quarterback
Team: Dallas Cowboys
Injury: Compound Ankle Fracture, Ankle Dislocation
Projected Recovery Time: 5-9 months
The NFC East saw one of the greatest comebacks this week with the return of Washington's QB Alex Smith, who suffered a gruesome leg injury in 2018. Smith battled through several life-threatening infections, muscle and nerve damage, as well as an intense physical therapy program, to make it back to the NFL, and his dedication and grit is truly impressive to everyone, no matter what team they support. Unfortunately, this division also lost one talented QB the same day another returned: Dak Prescott. Dak, who is in his contract year, suffered a gruesome ankle injury during a divisional game against the NY Giants when he was tackled during the third quarter. You could tell by the look on his face when he was carted off the field that something was seriously wrong. It was confirmed Monday that Dak indeed suffered a compound lower leg fracture, as well as dislocation of that same ankle. Dak underwent surgery Sunday night and is undoubtedly out for the rest of the 2020 season. The severity of Dak's injury makes it difficult to predict his recovery timeline, but the greatest concern is ensuring his leg does not get infected. A compound fracture means that there is a break in the skin, which can allow germs and other infection-causing agents into the wound, and risk of infection is higher. The surgery stabilizes the displaced ankle bones, but the surgical team will also thoroughly clean out the wound to reduce the risk of infection as much as possible.
After surgery, Dak will go through a phase of limited-to-no-weight bearing to allow the damaged tissues to heal. If there is ligament involvement, which news has not been released as of yet but is very likely, this immobility phase will last even longer. After about 4-6 weeks, Dak can finally start some weight bearing activity, although he likely would have started physical therapy already. Many injured athletes (including Alex Smith!) are now utilizing blood flow restriction training (BFR) early in their recovery, as this process allows you to gain more strength without breaking weightbearing or strength training restrictions. BFR works by partially occluding blood flow to an extremity, which triggers specific pathways that cause the body to build muscle faster. Essentially, you feel like you did a high intensity workout without having to use much weight at all! Dak will likely use BFR often during the earlier phases to regain strength to accelerate his recovery time. It won't be until 12 weeks or more that he will be able to start football-related drills, however – he has to have minimal pain and regain full strength and flexibility before starting those activities. Eventually, after Dak passes his Return to Sport Testing that puts his balance and strength to the test, he will be able to finally return to practice and games, 5 to 9 months later.
Though he has a long road ahead of him, Dak has proven to be a resilient player and person and will be back, ready, to play for his contract in 2021.
For more information on BFR, as well as how we use it at 3DPT, check out this link: https://3dpt.com/blood-flow-restriction/
Sources:
https://www.espn.com/nfl/story/_/id/30094698/dak-prescott-dallas-cowboys-carted-field-ankle-injury
http://nwomedicine.com/wp-content/uploads/2014/09/ProtocolAnkleORIF.pdf
Categorized as: 2020 NFL Blog