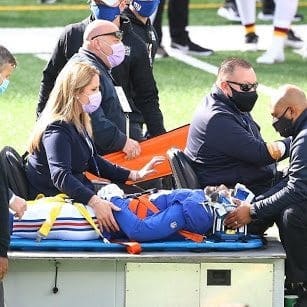 At a Glance –
Player: CJ Board
Position: Wide Receiver
Team: New York Giants
Injury: Concussion, Neck Strain
Projected Recovery Time: 3 weeks – 2+ months
The NFC East is still wide open, despite the fact that the division is 5-18-1 in games played this year. Injuries have been rampant in this particular division, as every team has lost at least 1 key player this season. During a divisional game this past week, another injury occurred – again to the Giants – and this one was particularly concerning. When attempting to make a catch, CJ Board was hit and knocked unconscious, hitting his head on the ground when he landed. Luckily, the Giants' head coach reported that Board was responsive on the field and had sensation and movement in all extremities. Though Board was quickly immobilized and transported after the injury, it has been confirmed that he has been ruled out with a concussion and neck sprain. He will need to participate in physical therapy to heal, rebuild strength, and address vestibular deficits. Concussions are mild traumatic brain injuries, caused by a blow or jolt to the head, that may leave a person with behavioral, cognitive, or physical symptoms for weeks to months. They are serious injuries that can disrupt the brain's chemistry and function, and it is important to diagnose the injury and allow the brain to heal. Physical therapists are trained to identify and understand symptoms to ensure a person safely returns to activity.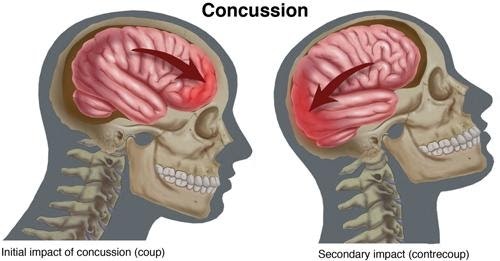 Concussions are a difficult injury to treat as people present differently, depending on the severity of the concussion, but the biggest goal of Board's physical therapy program will be to re-introduce activities gradually. If someone returns to higher level activities too quickly, a brain bleed can develop from excessive swelling, or a person may develop post-concussive syndrome, in which symptoms last for several months. One of the best ways to treat concussions is exercise, surprisingly enough. Studies have shown that exercise improves blood flow to the brain and strengthens the brain's communication pathways, and by returning to exercise gradually, a person can start returning to daily activities. Typical symptoms include headaches, dizziness, and "feeling foggy", and early interventions in Board's PT program will help him improve his tolerance to moving his head, standing, and performing daily activities. The injury report states he has a "neck strain", which is a little ambiguous but indicates Board may have had whiplash from his injury. A whiplash injury puts strain on the tendons, ligaments, and nerves in your neck, causing pain and headaches, among other things; Board will work on strengthening key muscle groups in the neck, as well as addressing vestibular impairments, which are very common with both concussions and whiplash. Vestibular (or inner ear) problems interfere with balance and coordination, and PTs have a variety of exercises to help Board improve his stability. As he progresses, the exercises will become more difficult to ensure he can tolerate the demands of professional football. There is even a formal treadmill program that measures heart rate and symptoms that Board will likely participate in to make sure he can return to football safely. His PTs will know the signs of a poor response to exercise to make sure he isn't doing too much, and hopefully in the next 3-4 weeks, he will be able to make a full recovery and return to football, just in time for the second half of the season.
Sources:
https://www.choosept.com/symptomsconditionsdetail/physical-therapy-guide-to-concussion
https://giantswire.usatoday.com/2020/10/19/new-york-giants-offering-encouraging-news-cj-board-terrifying-injury/
Categorized as: 2020 NFL Blog