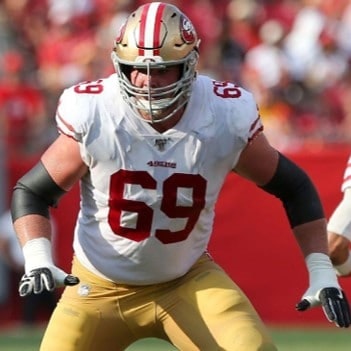 At a Glance –
Player:  Mike McGlinchey
Position: Right Tackle
Team: San Francisco 49ers
Injury: Torn Quadriceps Tendon
Projected Recovery Time: 4-6 months
In Detail:
The 49ers have seen their fair share of injuries this season, especially those involving the knee. During this week's game versus the Cardinals, the 49ers lost a notable player, Mike McGlinchey, to a torn quadricep. Though it has not been disclosed if it was the tendon or muscle itself that was torn, this injury comes as a particular blow to the 49ers because McGlinchey was having his best season in the NFL. However, this injury is severe enough to cut that standout season short. McGlinchey will likely be undergoing surgery in the upcoming weeks to re-attach/repair the damaged muscle or tendon, and he will be spending a lot of time with his physical therapist to prepare for next season.
The quad is made up of four muscles that come together to attach to the kneecap via the quad tendon, and these muscles are primarily responsible for knee extension and hip flexion. The quads are some of the most prominent muscles involved in running and squatting, and a complete tear in the quad, whether it was through the tendon or muscles themselves, is a disabling injury. Surgery is almost always necessary to help a person return to full function, and McGlinchey will have to put in the work with his rehab team to be back in 2022. After surgery, McGlinchey will be immobilized in a knee brace, limited to walking with crutches for up to 8 weeks.
During these earlier phases, focus will be on ensuring his knee reaches neutral for extension and to gradually introduce knee flexion. Around 8 weeks, gradual weight bearing activities can start, and McGlinchey will be able to trial mini squats, step ups, and other functional movements that are quad dominant. Around 11 weeks, he will be able to start single leg activities, which will be key in restoring balance and movement patterns to ensure McGlinchey will be strong enough to return to play. Later phases of rehab focus on the quad's ability to withstand higher level stresses, especially in single leg stance, and that the quad muscles maintain their flexibility, as quad inflexibility is predictive to further injury upon return.
Players that play the right tackle position are specifically known for being the best run blockers on the offensive line, which means McGlinchey needs a lot of lower body stability to counteract and block opposing players, and the sudden impact he will have to match could potentially cause another quad tear if he is not strong enough. Luckily, McGlinchey is known for his work ethic and will undoubtedly put in the time for his comeback season. For now, the 49ers will have to rely on a rookie or two to try to take his place.
To see what McGlinchey's PT program for a quad tear might include, take a look at the video to see the team demonstrate a few exercises.

Source:
https://www.espn.com/nfl/story/_/id/32584934/source-san-francisco-49ers-rt-mike-mcglinchey-season-torn-quadriceps
Categorized as: 2021 NFL Blog