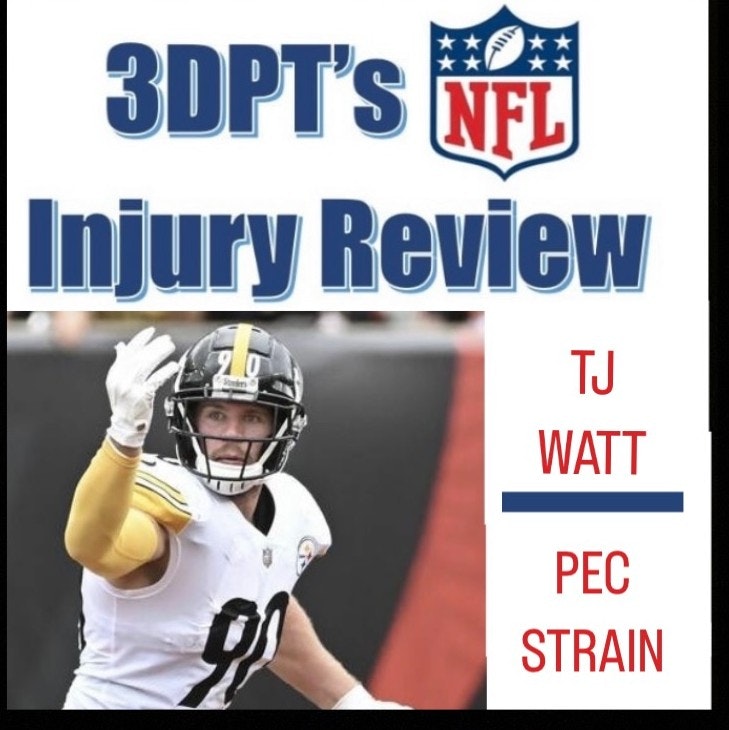 At a Glance –
Player: TJ Watt
Position: Defensive End
Team: Pittsburgh Steelers
Injury: Pec Muscle Strain (full extent unknown)
Projected Recovery Time: 6 weeks – 4+ months.
The Pittsburgh Steelers had an electrifying divisional win against the Bengals during Week 1 of the NFL season. This unexpected victory had much to do with the Steelers' defense, who kept Joe Burrow in check with 4 picks during the game, but during the 4th quarter, this unit lost a key player: TJ Watt. Watt, who had both a sack and interception, exited the game with a pec injury. Following tests confirmed a torn pec, but the severity of the tear is yet to be known, as Watt is seeking second and third opinions from specialists. The fact that Watt has not been ruled out for the season yet is promising – there may be a chance that this injury may not be so severe that it requires surgical correction. If the injury can be managed conservatively, Watt will still miss time on the field, but he may make it back with plenty of the season left.
Regardless of whether or not Watt requires surgery, he will certainly be working with his physical therapy team. The pectoralis major muscle, a huge muscle on either side of the chest that provides dynamic shoulder stability, and strength and flexibility of this muscle is absolutely essential to perform the demands of professional football. In conservative treatment, early efforts will be dedicated to reducing pain and irritability of the involved muscle. Ice and gentle passive motion will be utilized often. Isometric exercises, in which the muscle activates but the joint itself does not move, will be utilized to slowly restore strength and prevent further atrophy. As time goes on, concentric movement (strengthening with joint movement) will be added into his strength program, and when Watt has that essential stability, he will progress to football-related exercise to ensure that he will not re-injure that muscle when he goes to tackle the quarterback or braces himself when hitting the ground.
Take a look at this video to see the 3DPT team demonstrate a few of the moves that could be incorporated into Watt's rehab program for a pec muscle strain.
If TJ undergoes surgery, his recovery and rehab process will be delayed by time spent with immobilization, to allow the repaired tendon to heal, and progress is generally slower to protect that healing tendon. Undergoing surgery also means a missed season. The verdict has yet to be delivered regarding whether TJ Watt will return this season, but if you took the Steelers D for your fantasy team, there's still hope.
Source: https://www.sportingnews.com/us/nfl/news/tj-watt-injury-update-steelers-pec-injury-bengals/s8qktqi5glkbwcgog6qwekho
Categorized as: 2022 NFL Blog