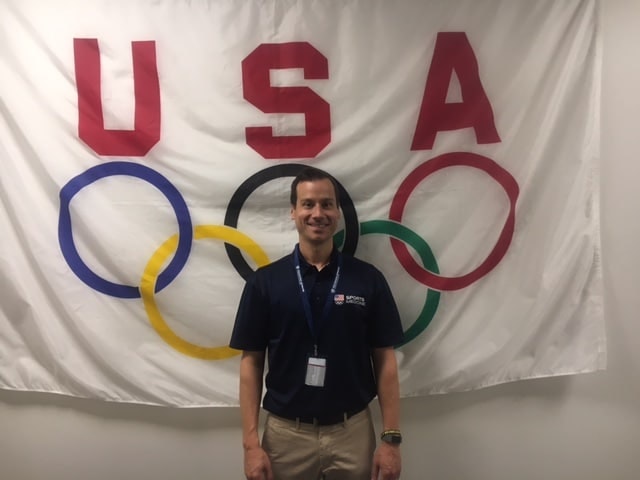 by Ken Guzzardo
This past fall, I was able to cross a professional goal off of my list when I had the opportunity to volunteer at the Olympic Training Center (OTC) in Colorado Springs, Colorado. I enjoy working with all populations and injuries, but athletes have always been fun and presented the biggest challenge. Between coordinating practices and games, to progressing through return to play protocols, to loading the Physical Therapy visits with exercises specific to their sport, the athlete requires me to think ahead and make sure we are on the same page with goals. When I met with a physician for USA wrestling, he recommended that I look into volunteering with the USOC, so I sent off my resume that evening. A year later, I was asked to come out to Colorado Springs, and after getting my wife's blessing (since she was going to be home with my two young daughters) and discussing with my partners at 3D, I booked my flights.
The OTC is home to men's and women's wrestling, boxing, and shooting, men's gymnastics and numerous Paralympians. As a volunteer, I worked side by side with the full time staff with a schedule of my own. My schedule was 8-6 Monday through Friday and 12-2 Saturday, with some on-call hours a few nights each week, so it was definitely not a relaxing vacation!
At the OTC, medical disciplines all work closely together. I could collaborate on treatment or a diagnosis with a chiropractor, athletic trainer, physician, physical therapist, or an orthopedic surgeon. This was a great practice to work in, because it really was focused on the patient. Our goal each and every session was to get the athlete relief and progress exercises to allow him or her to practice and return to their sport as quickly as possible. For most of these athletes, there is a window of years when they are eligible for the Olympics, so they could theoretically miss their shot because they were injured at the wrong time.
Some athletes live at the OTC year round, and others come in for camps or training sessions. The week that I was there in September happened to be the week that men's gymnastics was having their World Team trials, and men's and women's wrestling and boxing were practicing before their international competitions. Not only did I get to work with some amazing athletes during this week, but I also got to watch the World Team selection.
I also had the opportunity to work with numerous Paralympians during my time in Colorado. Snowboarders and skiers who had amputations or spinal cord injuries and blind swimmers were just some of the amazing athletes with whom I was able to rehab. It was a fun challenge to not only think about the requirements of their sport, but also think about how they have to compensate or move differently depending on their disability. These athletes were inspiring!
In addition to working in the Sports Medicine clinic, I was also able to observe and cover practices for gymnastics and wrestling, brainstorm with strength and conditioning, transport athletes for medical testing (if there is an injury, it needs to be diagnosed ASAP so MRIs and other testing is very quick!), and observe diagnostic ultrasounds.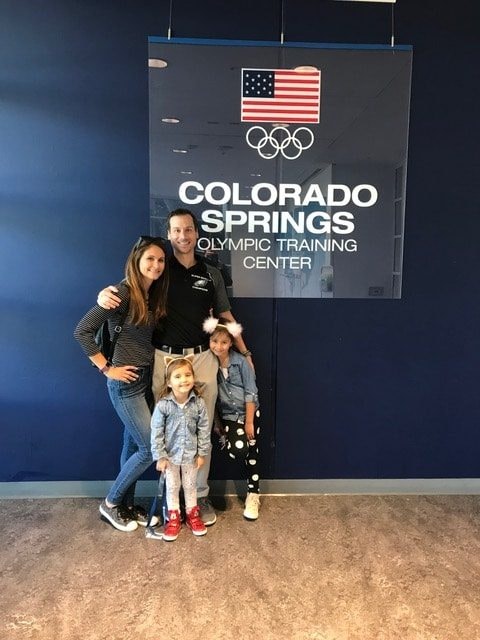 During the second week I stayed in Colorado, I was lucky enough to have my wife, two daughters, and mother-in-law join me at the end of the trip. I was able to show them the Olympic training center, and we even explored the area. We hiked at the Garden of the Gods and enjoyed some beautiful sights!
Two of my biggest take homes from this experience are:
• Healthcare professionals need to collaborate. I consider myself lucky because I get to work with some amazing Physical Therapists each day who I can bounce ideas off of. I also have a good network of personal trainers, athletic trainers, chiropractors, physicians, and surgeons who I can refer out to or discuss cases to get the best for our mutual patient or client.
• It takes A LOT to be an athlete of this caliber! Not only do you need to be blessed with the physical gifts of being an athlete, but they have a mental toughness that is unbelievable. Some of the athletes would eat breakfast, come in for treatment, go to practice, eat lunch, come in for treatment a second time, go to strength and conditioning, use the recovery room (hot tub, sauna, cold tub, massage), eat dinner, go to bed, and then wake up and do it again. 5-6 days a week! And the Olympics are two years away still! The mental fortitude and dedication requires all when your reward of the Olympics is years and years down the road was amazing to me.
Now that I have completed my training rotation, I am eligible for coverage for national or international events. I hope to cover some national events, and at some point be able to go to the Olympic games as a Physical Therapist with Team USA. Who knows when that will be, but this was an awesome first step that would not have happened without the support from my wife, kids, and my co-workers who were able to cover for me while I was gone for two weeks. Go USA!!!
Categorized as: Sports Injury