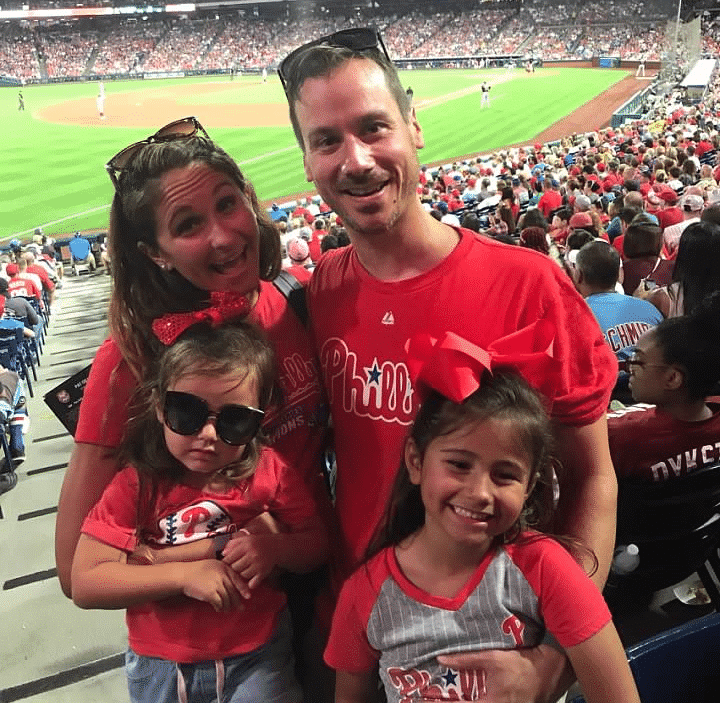 by: Ken Guzzardo
For as long as I can remember, I have loved baseball. I've enjoyed playing the game, keeping score while watching games, and traveling around the country with my dad and brother visiting different stadiums. So far, we have been to 11 of the pro teams, so there's still some work to do! Before my wife and I were dating, we went to the first night game at Citizen's Bank Park with the Thomas Jefferson PT program. When Jim Thome came to the plate, I bet her a date that he would hit a home run. After she agreed to the bet, he sent the next pitch flying into the stands which got me date number 1! Baseball really is the best game!
Whether it was my 130 pound frame in high school or the fact that I couldn't hit to save my life, I realized early on that my professional baseball career probably wasn't going to happen. So I chose the next best thing – working with baseball players!  Part of the reason I chose to study Physical Therapy was to have the opportunity to work with people of all abilities, including athletes.
Over my career, I have had the opportunity to work with many baseball players.  I volunteered with the Camden Riversharks for several seasons and have worked with a number of youth, high school, collegiate, and professional baseball players. Currently, I'm even leading a research study to determine the predictors of injury in high school and college baseball players! I've worked with a lot of great athletes and great families, and have seen many of my patients move through their baseball careers. There are many days that I get to have a catch with my patients during their return to throwing programs. Who is lucky enough to have a catch at work?
Baseball is very demanding on the body. There is so much rotation, stress on the shoulder and elbow, and overall fatigue throughout a long season that it begins to take a toll physically on the athlete. I really enjoy the challenge of diagnosing not only the injury, but really taking a step back and figuring out which stress is causing the injury in the first place. A lot of times, by strengthening the athlete's legs, we can maximize their efficiency and help improve shoulder or elbow pain. One of the most rewarding parts of my job is when I see my athletes playing not only pain-free, but also throwing and hitting harder than ever because their bodies are that much stronger.
Thanks to baseball, I not only tricked my wife into a date, but also developed great family memories growing up and with my daughters today. The fact that I get to work with baseball and softball players as a part of my job makes it that much more fun to come to work. Thank you, baseball, for all you have done for me personally.  I'm so thankful for the opportunity to give back and help athletes of all ages enjoy playing without injury!
Categorized as: Sports Injury