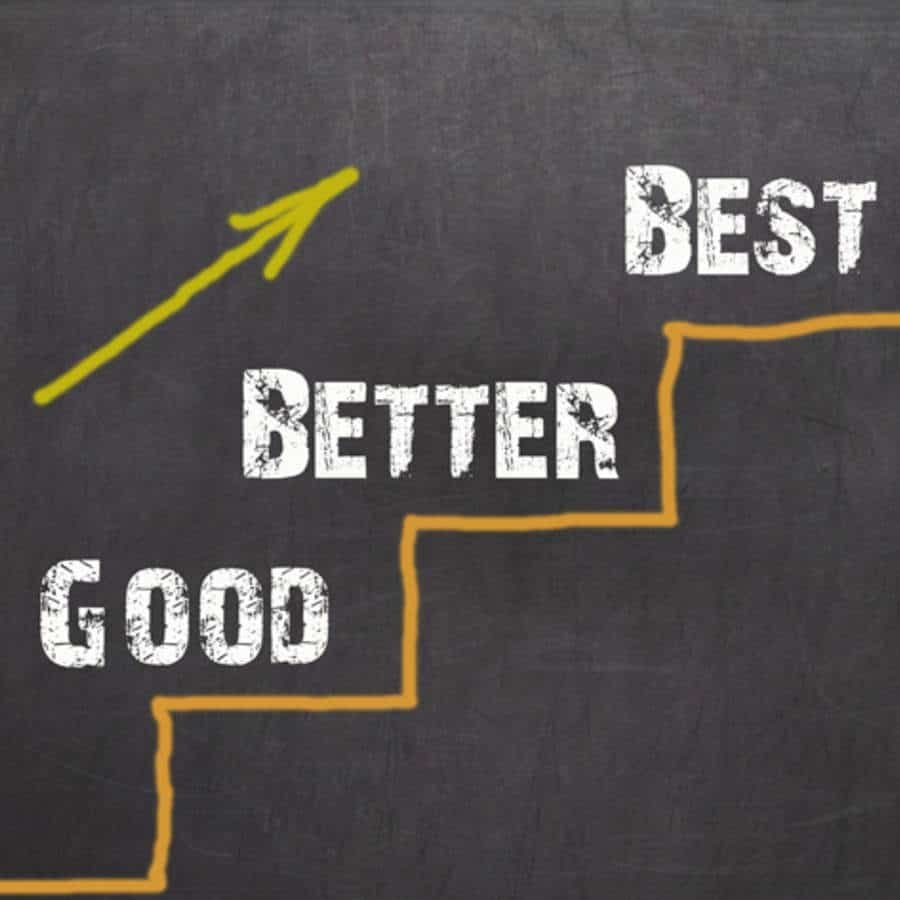 We are what we repeatedly do. Excellence, then, is not an act but a habit. This quote is attributed to Aristotle from all the way back in the 4th century, but is still so applicable today! Excellence is usually not something that is simply a "one and done" act but something that is continually strived for.  This is certainly true for us at 3DPT, and so much so that we made our Commitment to Excellence one of the 5 Core Values that define who we are. Excellence – or truly being the best – is what we as a company aim for everyday for our employees, our patients and our communities.
Excellence can be defined differently by everybody.  For an athlete, excellence could be a gold medal, a championship ring or a world record. Most people would agree that Michael Jordan was an excellent basketball player – he's certainly got the championship rings to prove it! But besides the championships he's known for, Michael Jordan's commitment to being the best –  his work ethic – is just as well known. Excellence takes vision of what "the best" looks like, determination to get there and most importantly, actually doing the things that make you better.
So what does Commitment to Excellence mean for us at 3DPT?
Our definition of excellence is providing the best physical therapy care and customer service to our patients and communities.  We work toward that each day and here's how we do it:
Hiring the best employees!
Being the best takes teamwork and we are pretty sure we have the best team around! This isn't by accident of course. We take a lot of time and consideration when hiring every employee – from aides to front desk employees to physical therapists.  We want to make sure that each potential employee aligns with our core values and can commit to providing excellent care.
Ongoing education and learning
We hope you agree that our physical therapists are great at what they do! They all have a great combination of clinical expertise and compassion and care for our patients.  But it doesn't stop there… our physical therapists are committed to continuous improvement and learning.  Every 3DPT employee participates in continuing education and certification courses throughout the year so that they can stay up-to-date on the latest and greatest practices, technologies and tools to help patients.
(3DPT often hosts these classes so that all PTs in the south jersey area have access to great education!)


Additionally, Did you know that 5 of our PTs are double Board certified in Orthopedics and Sports? And 1 PT is Board certified in Pediatrics?
(PS there are less than 10 double board-certified PTs in South Jersey and 5 work at 3DPT!)

To become Board Certified, a Physical Therapist completes a one year residency program, or completes 2,000 hours of work in that specialty before taking a board examination. This is after completing both a four year Bachelor's degree program and a three year Doctor of Physical Therapy (DPT) program. To maintain this certification, Physical Therapists need to stay up to date on the latest breakthroughs and treatment approaches.

Continuous improvement of how we do things
Great PTs provide wonderful care but a patient's overall experience with 3DPT is more than the physical therapy program.  Your experience starts on your first call to make an appointment!  From the friendly person you talk to, the ability to get an appointment quickly and at a time that's convenient for you, to the verification of your insurance coverage and copays, it's important that every step of the way is the best it can be. Our Operations Director, Jeanine, is always evaluating our processes and systems to see where we can improve. The insurance verifications and billing teams continuously stay up-to-date on policies and procedures of insurance companies (which isn't an easy task!) so that patients don't have to wonder about coverage. And our wonderful front desk team makes sure patients are scheduled, temperatures taken and pretty much everything else in the clinic runs smoothly!
A team of leaders that wants the best
Last but not least, 3DPT has a wonderful team of leaders that truly want to be the best for our employees and patients! Owners Ken Guzzardo and Jeff Sallade had a vision 10 years ago to start a physical therapy company that was different. A company that set the bar, not just for physical therapy clinics, but for the way patients and employees should be treated by all healthcare companies.  Now, 5 clinics later, that vision is still the motivation of all 3DPT managers. The leadership team leads by example when it comes to their commitment to excellence – still learning & taking classes, still delivering the best care and always looking for ways to make the patient experience better.  And even ways to make the physical therapy field better…Ken was just elected to be a Director on the NJ American Physical Therapy Association (APTA) Board!
As mentioned earlier, Excellence takes vision, determination and action. But it also requires one more thing – a reason to want to be the best.  For us, that's the easy part – it's our wonderful employees, patients and communities that let us be a part of their lives! We may not have a gold medal or championship ring, but we have the best patients around 🙂
Categorized as: Articles