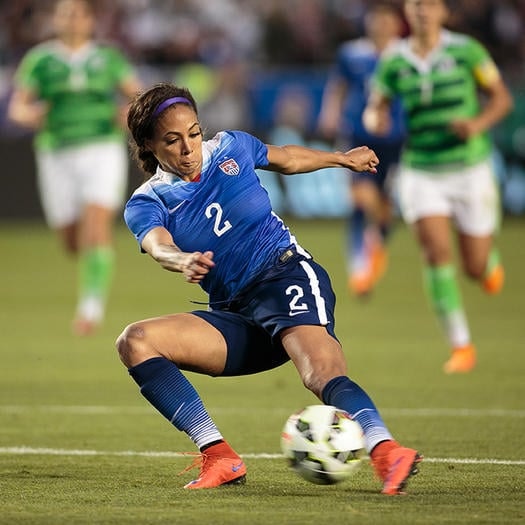 Agility, in relation to sports, is defined as "the rapid whole body movement with change of velocity or direction in response to a stimulus." Or in other words, the ability to react quickly with speed or direction changes when you need to. Agility is an important skill for athletes, especially in many of the sports that involve a high rate of ACL injuries (Sheppard & Young, 2005), making agility training an important aspect to incorporate in an ACL injury prevention program.
Agility training incorporates many components and combinations of motor skills that are essential in many high risk sports. These motor skills can include but not limited to acceleration, deceleration, accuracy of direction, position of center of gravity, speed, and coordination training (Padua et al., 2018) Several studies have looked into agility training and its ability to improve aspects in ACL prevention such as hamstring strength, landing mechanics, and neuromuscular control of the lower extremities. In a 2009 study (Wilderman et al.), thirty females were put through a 6-week agility program that resulted in improved medial hamstring activity during a side-step pivot which can help prevent an ACL sprain. Other studies of ACL injury prevention (as Nessler et al. in 2017 and Gokeler et al. 2018) recommend agility training as part of a comprehensive program for ACL prevention to prepare athletes for unanticipated events, improve neuromuscular control, and to improve limb symmetry.
Although lower body strengthening, core strengthening, and balance training are all important aspects of ACL prevention, these do not not replicate positions or situations that many athletes will be involved in during their sports. Comparably, agility exercises contain more dynamic and sport-specific movements than balance training and strength training, making them an essential part of an ACL prevention program.
In week 6 of 3DPT's ACL Prevention program with REAL Jersey Football Club, Drs Anthony Nguyen and Kaitlin Ley introduced players to a few exercises to improve agility. Check out the video to see the exercises (and some extra footage!) of their moves. You'll see agility training can be fun!
References:
Gokeler, A., Seil, R., Kerkhoffs, G., & Verhagen, E. (2018). A novel approach to enhance ACL injury prevention programs. Journal of Experimental Orthopaedics, 5(1). doi: 10.1186/s40634-018-0137-5
Makhlouf, I., Chaouachi, A., Chaouachi, M., Othman, A. B., Granacher, U., & Behm, D. G. (2018). Combination of Agility and Plyometric Training Provides Similar Training Benefits as Combined Balance and Plyometric Training in Young Soccer Players. Frontiers in Physiology, 9. doi: 10.3389/fphys.2018.01611
Nessler, T., Denney, L., & Sampley, J. (2017). ACL Injury Prevention: What Does Research Tell Us? Current Reviews in Musculoskeletal Medicine, 10(3), 281–288. doi: 10.1007/s12178-017-9416-5
Padua, D. A., Distefano, L. J., Hewett, T. E., Garrett, W. E., Marshall, S. W., Golden, G. M., … Sigward, S. M. (2018). National Athletic Trainers Association Position Statement: Prevention of Anterior Cruciate Ligament Injury. Journal of Athletic Training, 53(1), 5–19. doi: 10.4085/1062-6050-99-16
Categorized as: ACL Injury Prevention Resources