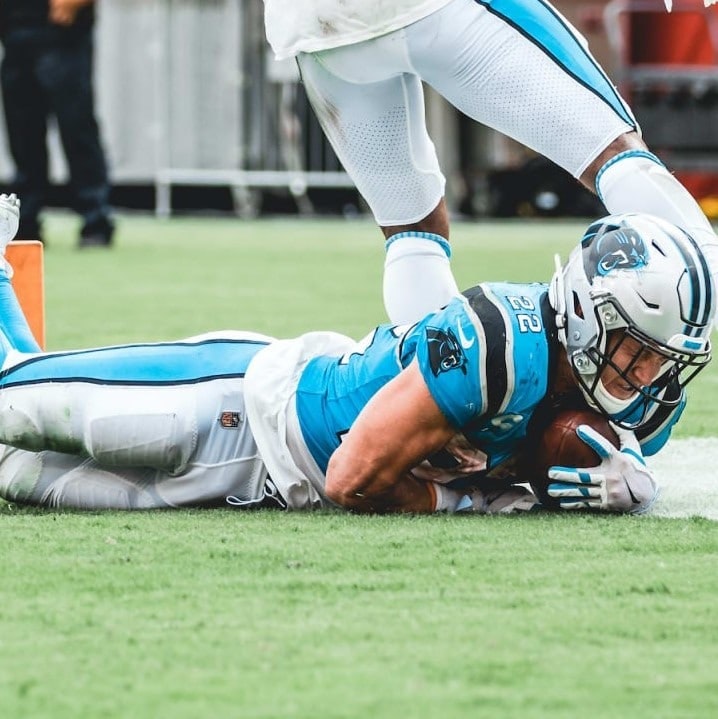 At a Glance –
Player: Christian McCaffrey
Position: Running back
Team: Carolina Panthers
Injury: Ankle Injury
Projected Recovery Time: 2-6 months
The Panthers have experienced a whirlwind of a season, after starting off hot and now being 5-7, and injuries to their star player has only made matters worse. If you've been following our injury reports, you might have seen Christian McCaffrey (CMC) featured for our Week 3 article. After rehabbing his hamstring and returning to play, CMC found himself on the IR again after sustaining a serious ankle injury during the Week 12 Panthers vs Dolphins game. He reportedly rolled his ankle, and MRI imaging confirmed enough tissue damage to cause CMC to miss the conclusion of the season (since it is rather unlikely that the Panthers will make the playoffs). Though specifics about his injury have not been disclosed, it is likely that CMC sustained a significant ankle sprain. CMC's absence from the field is unfortunately nothing new, as he has only played in 10 out of 33 games in the past 2 seasons. His focus during the upcoming weeks will be on avoiding surgery with the help of his rehab team and physical therapist.
The good news is that CMC does not necessarily have to get surgery as long as his rehab goes well and should be back and ready to go by the 2022 season. After the Dolphins game, CMC was seen walking in a boot and will likely continue walking in the boot for the next 2-4 weeks. The goal of this immobilization is to decrease the stress on the ankle and its ligaments to allow for healing, as well as provide protection from any further tissue damage. This protection in the early weeks is essential since once you sprain your ankle, regardless of the severity, you are at greater risk to sprain it again, which is known as sustaining "chronic ankle sprains". Chronic ankle sprains occur when the ankle's strength and proprioception (the body's ability to determine where it is in space) are not restored after the initial ankle sprain and can even warrant surgery if the ankle is unstable enough. Rehab is essential to prevent repeated ankle sprains and ankle stabilization surgery, which is why CMC's prognosis depends on how he does in PT. CMC is likely participating in PT already despite being in the boot, and early efforts will be on building ankle strength and proprioception so that when he returns to the field, he will automatically avoid putting his ankle in positions that put too much stress on the ligaments. Later efforts will really hone in on building CMC's proprioceptive response. Exercises will include maintaining balance on unsteady surfaces, on one leg, and with eyes closed. Additionally, landing and running mechanics will be refined to ensure that even during the game, CMC's ankle will stay in that safe position. Recovery all depends on CMC's progress, as well as the extent of the sprain. Since CMC is out but does not necessarily need surgery, it is likely he sustained a Grade II ankle sprain, which means a portion of the ligament tissue is torn but not completely through. Recovery for this is ~6-8 weeks. Though the hopes of Panther's fans are certainly dashed this season, having their star running back return, healthy, will be a great start to the 2022 season.
To see some of the exercises McCaffrey will likely be doing throughout his rehab for the ankle sprain, watch the team demonstrate a few in this video!
Sources:
https://www.panthers.com/news/christian-mccaffrey-placed-on-injured-reserve
Categorized as: 2021 NFL Blog