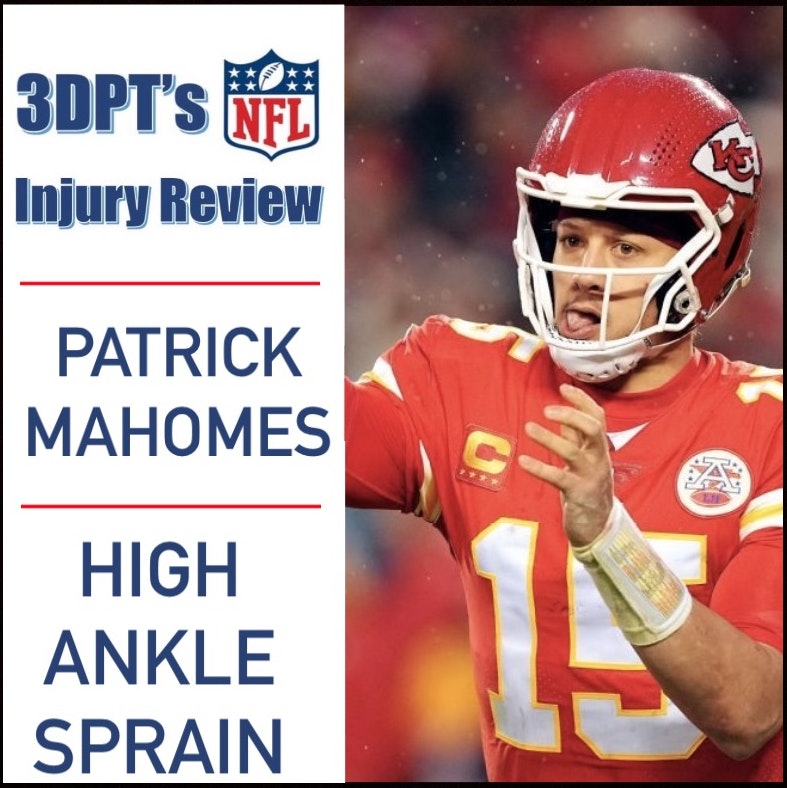 At a Glance
Player: Patrick Mahomes
Position: Quarterback
Team: Kansas City Chiefs
Injury: High ankle sprain
Projected Recovery Time: 6-8 weeks
The Kansas City Chiefs had quite the scare this weekend when facing the Jacksonville Jaguars in the Divisional Round – their star QB, Patrick Mahomes, went down with an ankle injury. The extent of the injury was unknown at the time, but it was significant enough that Mahomes had to miss part of the game. Reports later confirmed that Mahomes suffered a high ankle sprain, which he will be dealing with as the playoffs progress.
A high ankle sprain involves the connective tissue between the tibia and fibula, known as the syndesmosis. It typically occurs from a twisting/rotation injury and is very common in football. It is very likely that Mahomes will be playing in the AFC championship against the Bengals, but he will be dealing with this injury and working with his rehab team to make sure that he has as little limitation as possible. Early focus will be on decreasing pain levels and improving tolerance to movement in the ankle, which can be irritating, especially in weight bearing. Mahomes may even get a brace he can play in. As his pain levels improve, exercises will include maintaining balance on unsteady surfaces, on one leg, and with eyes closed. Additionally, landing and running mechanics will be addressed to ensure that Mahomes can play as safely as possible. Hopefully, with the help of Mahomes' PT team, he will be able to lead the Chiefs to another Super Bowl showing.
In this video, the 3DPT team demonstrates a few exercises that could be incorporated into a rehab program for a high ankle sprain.
Early Stage: Ankle 4-way
Late Stage: Y-balance cone taps
Return to Sport: Reaction Agility Drills
Source: https://www.espn.com/nfl/story/_/id/35503740/patrick-mahomes-ankle-injury-means-kansas-city-chiefs
Categorized as: 3DPT's NFL Injury Review