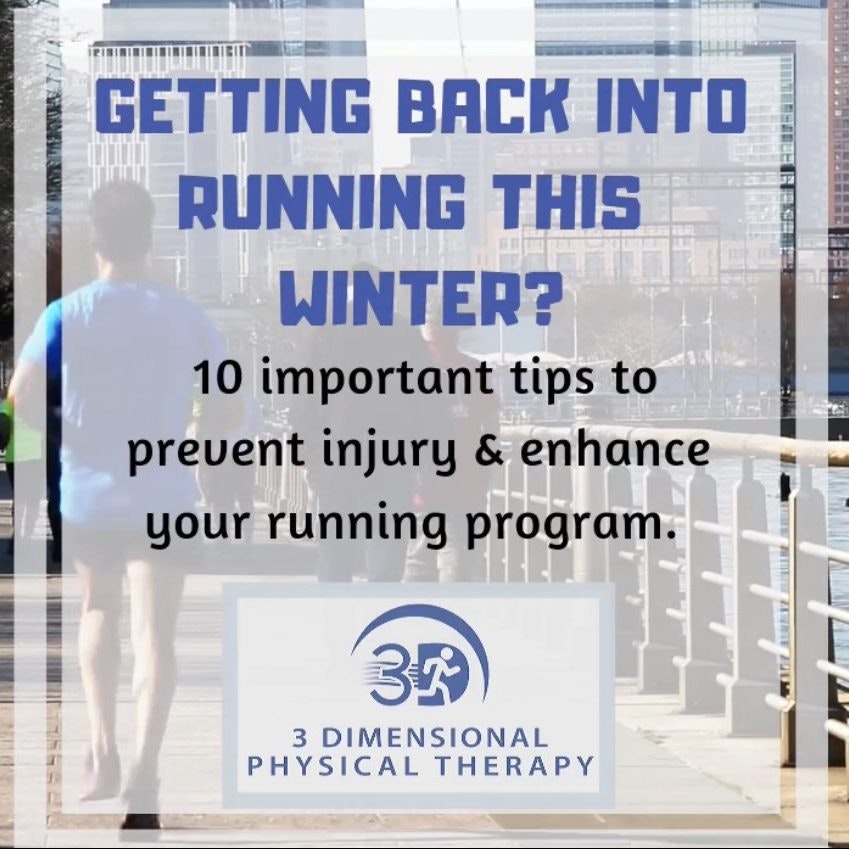 Many people will get back into running this time of year after taking some time off during the holidays.  Even more will get outside and start running as the weather warms up in the upcoming months. There are many running-related injuries that can often be prevented, such as plantar fasciitis, IT-Band Syndrome, runner's knee and Achilles tendinitis.  The following tips are based off the current research and recommendations from our running experts at 3 Dimensional Physical Therapy.
1) Do not increase your total weekly mileage by more than 5-8% If you have a history of a lower extremity injury, high body mass or poor running experience.
2) Do not increase total weekly mileage greater than 10-15% if you are an experienced runner.
3) Those who run only 1x per week have a higher likelihood of injury. Instead of one big weekly run, break it up into 2 to 3 smaller runs.
4) Avoid running everyday, mix in rest days and cross training days (bike, elliptical, rowing etc)
5) Shoes are rarely the cause of pain, usually it's training errors and lack of strength, stability, flexibility, etc. Shoes should simply fit well and be comfortable.
6) Do not change too many variables all at once (i.e. Hills, terrain, speed, distance)
7) Keep track of step cadence. Those whose steps per minute fall below 160 may be more prone to injury. Try to stay above 165 to 170  throughout your run.
8) Don't forget to incorporate hip/quad strengthening, balance work and core stability into your program.
9) If you took weeks or months off from running, do not start up at the distance you were doing before you stopped. Give your body a chance to progress back into it.
10) If you have running pain that persists, do not continue to run through the pain.
Running can be great exercise and easy way to start moving more.
Give us a call at 3 Dimensional Physical Therapy if you're experiencing any pain as you get started or back into your running routine.
Call to make an appointment today!
Medford~WestBerlin~Haddonfield
Categorized as: Exercise Library,Sports Injury,Sports Medicine