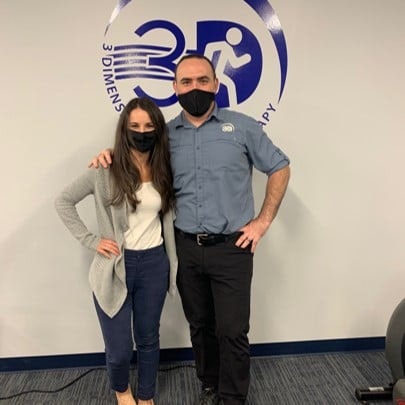 They say the first-born child tends to be reliable, caring and are achievers (The good stuff, at least!).  That is all certainly true of 3DPT's newest physical therapist, Dr. Katie O'Rourke, who is the oldest of 5 siblings! She's also a competitive tennis player, so Katie is used to hard work and being a great team player.  Katie loves that physical therapy gives her the opportunity to care for patients and help them work hard to achieve the PT goals!
---
Click here to learn more about Katie and keep reading for some more fun facts about our newest PT.
COLLEGE(S) ATTENDED:
Thomas Jefferson University for my Doctorate in Physical Therapy and Fairleigh Dickinson University for my Bachelors of Science in Biology
HIGH SCHOOL:
Sacred Heart High School (My class was the last graduating class there – the school is now closed!)
TELL US THE INJURY/CONDITION YOU LIKE TREATING THE MOST:
I really like helping individuals with balance disorders and adolescent sports injuries.
WHY IS 3DPT LUCKY TO HAVE YOU:
I am very motivated and determined and I'm looking forward to continuing to grow and learn here!  I am also organized, attentive to detail, responsible, caring, and trustworthy.
FAVORITE MOVIE OF ALL TIME:
Mamma Mia
FAVORITE DISH AT A RESTAURANT:
Anything pasta!
MOST DARING THING YOU'VE DONE:
I am the least daring person you may ever meet!
Categorized as: Articles