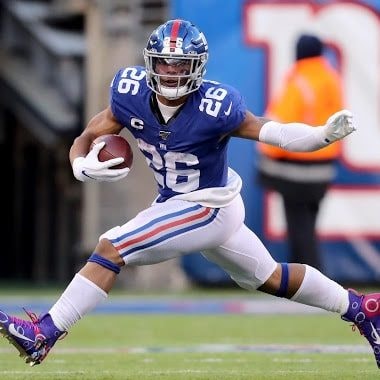 At a Glance –
Player: Saquon Barkley
Position: Running back
Team: New York Giants
Injury: Torn ACL
Projected Recovery Time: 6-10 months
In Greater Detail –
If you had to name the top 5 running backs in the NFL, Saquon Barkley is without a doubt on your list. This first-round draft pick had an impressive debut in 2018, setting multiple league and franchise records, and though he suffered a high ankle sprain last year, he was expected to have another standout season in 2020. Unfortunately, those hopes fell short as Saquon sustained one of the most dreaded injuries in sports: the ACL tear. This injury is far too common (7 NFL players suffered torn ACLs just this past weekend!) and results from rotational stresses, sudden changes of direction, and/or poor landing mechanics. The ACL (anterior cruciate ligament) limits forward translation of the tibia on the femur, providing stability for the knee joint in multiple planes. This ligament can rupture if excessive forces are placed on it, and if the tear is complete, surgery is often warranted if someone is returning to a higher level of play. The NFL is certainly classified as such, and thus Saquon will undergo surgery to reconstruct the ACL in the upcoming couple of weeks.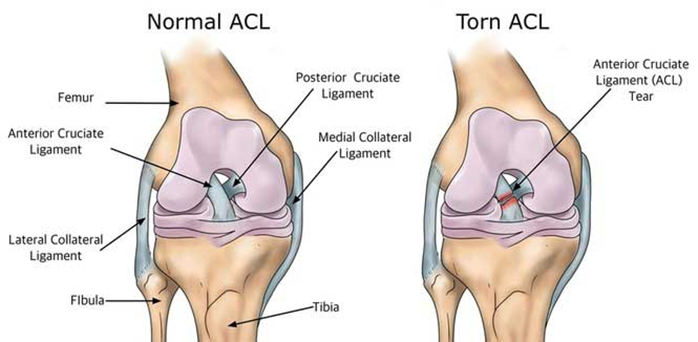 During this surgery, tissue is taken from the tendon of the quadriceps, hamstring, or patella and anchored to the tibia and femur, providing similar stability as the original ACL. However, it takes up to two years for the new "ligament", or graft, to fully resemble a normal ACL. Physical therapy is a major part of a person's recovery, and an elite athlete like Saquon will likely start PT within a few days of having surgery. The first few weeks of rehab will focus on improving pain levels, decreasing swelling, and recovering quad muscle strength, and around the 3-month mark, a person can finally be cleared to run. Strengthening of the quad, glutes, and hamstrings will be prioritized during sessions to improve lower body control and eliminate any muscle imbalances that may have contributed to the initial injury. The later phases of rehab will focus on proper technique with cutting, pivoting, and single-leg activities, with an emphasis on proper landing mechanics and dynamic balance. Protection of the graft is the biggest priority throughout rehab.
Though NFL players are outstanding athletes, recovery after ACL reconstruction will take at least 6 months because the healing and remodeling of the graft will follow that 2-year timeline despite any strengthening or balance training efforts. Therefore, if Saquon has no complications post-op, he will likely be ready to participate in OTAs and camp in anticipation of the 2021 season. Oftentimes, ACL tears are accompanied by damage to other structures in the knee that may not be reported, and if this is the case for Saquon, his recovery will be prolonged. Whether Saquon is back in 6 or even 10 months, it is clear his 2020 season is finished, and he will spend the rest of the year with his PT team preparing for his return to MetLife in 2021. Saquon is one of the most exciting players to watch, and this injury hit hard across the entire NFL. We can't wait for his comeback season!
At 3DPT we work with lots of patients with ACL injuries, but we also work with athletes to strengthen and prepare their bodies so that injuries can be prevented! To read about an ACL injury prevention program we led with the elite soccer players of REAL Jersey FC click here.
Categorized as: 2020 NFL Blog